Is Wish reliable? On this page, we will show you the pros and cons, so you know what to expect from the web shop. Great to know!
Is Wish reliable?
Especially with Chinese web shops, the question of reliability often comes up. How do you know if you have found a safe website or if you are being scammed?
Wish, like several other Chinese web shops, has products for sale at very low prices. This often raises questions such as: how can it be so cheap?
It is basically due to the working conditions in China, where the average wage is a lot lower than in the rest of the world. Also, Chinese factories use a lot of mass production, which keeps the cost per product very low.
How does Wish work?
Founded in July 2010, Wish is an e-commerce platform. This sounds difficult, but means that Wish's platform brings sellers and buyers together. Wish itself, is thus not the seller of the products! AliExpress works in the same way.
Most of the products you buy on Wish come directly from China. Once you've ordered a package from the web shop, Wish doesn't come into the picture with your order. The seller of the product sends it, and if you have any problems with the order, you have to go to the seller as well.
How reliable is Wish?
Wish works with over 1 million sellers and suppliers. Most likely, you don't know these sellers and suppliers yourself, so you can't be 100% sure if these specific sellers are trustworthy.
If you picked the wrong seller, Wish will help you. In case you did not receive your products, or they are broken or in bad condition, Wish will refund your money. You'll even get a refund for the shipping costs! This is how Wish manages to make working with all these sellers reliable for customers.
Shopping at Wish: 3 tips
To help you shop at this online retail shop, we've listed 3 highly effective tips, that make your customer journey much nicer!
Tip 1: read the reviews
There are several ways to ensure your purchase. One of the best tips for this, is to always look at reviews of products you are interested in buying. Want to be even more sure of your purchase? Then only choose products with more than 500 reviews and a 4-star rating or more.
The reviews at Wish are less visible than at AliExpress. At Ali, you can even filter to see only products with an average review score of 4 stars or more. At Wish, you are only able to view the reviews when you click on a product.

Be aware that when a product does not have any reviews yet, there is also no sign of reviews. They 'hide' the reviews for these products. Pay extra attention to this, because the products without reviews carry the most risks. Other people did not order these products yet either!
Tip 2: take into account (long) shipping times
A common complaint about Wish is that it sometimes takes a long time before your order is finally delivered. This is not that strange. Wish ships their products from China, so your order has to travel a long way before it can be delivered to you. Patience is a virtue, also at Wish.
If you would like to order products for a specific day or party, for example, it is better to do this well in advance. This gives you the greatest chance of receiving your order in time. Check the delivery terms of the product or seller, and add some extra time to be sure. Does shipping take 3 weeks? Then make sure you've ordered it, say, 5 weeks before you need it.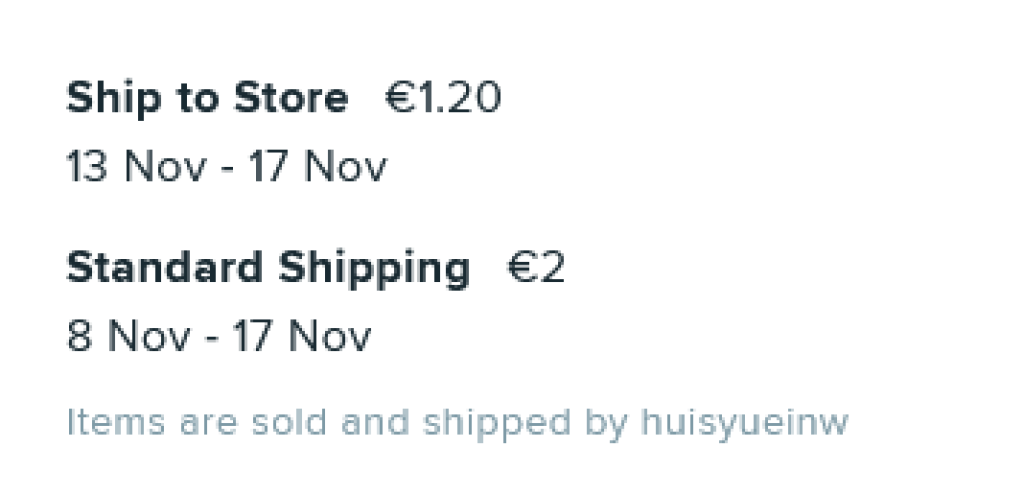 Is your package not coming at all? No worries, in that case you can contact the Wish customer service. You will receive your money back including the paid shipping costs. Nice and convenient!
Tip 3: don't just buy anything on Wish
Wish is a nice web shop with a huge range of all kinds of stuff. However, it is important to take into account that the products come from China. In China, different security rules may apply than in your country.
Products that are meant to protect you, such as helmets, protective clothing or condoms, are best ordered in your home country. The quality requirements are often better regulated, which ensures that you are better protected. After all, safety is something you'd better spend a little extra money on!
Toys also fall into the "better not to buy on Wish" category, especially with younger kids. Sure, it's very cheap, but toys in China also have other rules on safety. Consider the safety of your child first, and buy your toys in Europe or the US. Those may also come from China, but they will have been tested on quality.
We are also not very enthusiastic about batteries from Wish. Batteries can be very dangerous, especially when they are damaged. A battery is more likely to being damaged when shipped from another part of the world! We also lack insight into the inpections on batteries in China. For this reason, we do not recommend trusting these products at Wish, rather buy them in Europe or the USA!
The prices at Wish
Wish is known for its cheap products. At the top of this page, we already mentioned briefly why this is the case with products from China. We also think it is important to note that on top of those low prices, Wish also has many discounts and promotions.
Each season there is a discount code available, and when you sign up for the newsletter you also receive all current promotions in your mailbox. Those prices are really sharp!
App and website
Wish has both an app (Android or Apple) and a website, which are both good to use to score cheap products from China. The Wish app reliability is actually the same as the Wish online store credibility. So however you choose to shop at Wish, the reliability is always the same!
Conclusion: is Wish reliable?
Overall, Wish is reliable. When there are problems with purchased products or orders, Wish does its best to help out its customers. Also, most problems do not reside with Wish, but with the sellers who use the platform to sell their own products. So it is smart to keep a close eye on this and always read the reviews.
For the sake of clarity, we have listed all the pros and cons below. However, now you know that shopping at Wish is reliable!
Is Wish a reliable store? Pros and cons:
Pros
Huge and diverse offer
Low prices
Discounts and promotions on top
Wish offers warranty on defective or not received products
Cons
You buy through Wish from sellers you don't know. So you don't know if they are trustworthy
Sometimes long shipping times
Safety rules for products are very different from those in your country
Did you find this interesting?
On Chinafans.com, we take you through the offer of all kinds of nice and cheap Chinese stores, such as Wish, SHEIN, AliExpress or Zaful. On this page, we took a closer look on whether Wish is reliable or not. Our website includes much more of this kind of information. So keep an eye on us for the best tips and tricks, or to answer your questions!
You might also be interested in: What is cheaper: Wish or AliExpress?