Do you want to resell products from AliExpress, drop ship or hand over the invoice to your client or employer? Then you need an AliExpress invoice. For a long time AliExpress did not provide invoices. Fortunately, they do now. I will tell you how to create an invoice in 3 clicks.
Getting an invoice from AliExpress: how to do it?
AliExpress had one big disadvantage: they did not automatically create an invoice when you ordered something. But Ali also has a big advantage: there are thousands of dropshippers worldwide who simply needed this for their bookkeeping.
Since you are not the first to run into this problem, there are already a number of ways to get your invoices. But AliExpress has recently added the option itself. Here in your order overview, on the right side.
Below I will explain the steps I took to get invoices for my AliExpress packages.
New method (as of July 1st, 2021)
With the new VAT rules for AliExpress in Europe in July 2021, there is also a new, easier way to download and view invoices. This can now be done in the dashboard of AliExpress, here is a short step-by-step plan.
After you have placed an order, do the following:
1. Go to your order history
2. Find the order you want to download the invoice of
3. Click the button 'download invoice'
This method only works for orders placed after July 1st, 2021. If you want to download an invoice from a previous order, please follow the steps below.
Method 2: AliBilling
To get invoices, you can use the Chrome extension AliBilling. This is a plugin that you can install within your Chrome browser. You can download the extension on the website of AliBilling, but you can also do it manually. This is how you do it (on your computer)
Step one
In the top right of your browser, go to the hamburger menu (the 3 dots for settings). Then click settings. You will then see the overview below. Then click "Extensions".
Step two:
Click on the hamburger menu in the top left and at the bottom of the screen that appears, look for the following button:
You should arrive at this page.
Step three:
Then type the name AliBilling in the search field. You will see the extension you'll have to install.
The extension you need
There are a number of extensions with a similar name. This is the extension that is recommended by users of the extension.
Attention: always check with your accountant whether the invoices have been drawn up correctly for the tax authorities.
Before I show you where to find the invoice on AliExpress next, I'll tell you more about the second method. I've actually had more success with the second option. That too is an extension and it's called: Ali Invoice Free.
Method 3: Ali Invoice Free
Are you looking for an alternative to AliBilling to generate your AliExpress invoice? Then there is Ali Invoice Free. Personally, I liked this tool a lot because AliBilling didn't work well for me. So try this one if AliBilling doesn't work for you either.
Step one: Follow all the steps you have seen in method one. But then look for the extension called Ali Invoice Free. Below you can see which extension you need. Add it to your Chrome browser and you're ready to go.

Where can I find my AliExpress invoices?
What is really convenient about these tools is that you can find your invoices right there in your order list. Exactly where you want them. They are right next to your ordered products.
In this case I have both extensions enabled. The green button is from Ali Invoice Free, the grey button is from AliBilling.
Using Ali Invoice Free
What's convenient about Ali Invoice Free is that you can format your invoices from AliExpress very easily. If you press the button, most of the fields are already filled in, except for a couple of fields. With one push of the button you can also leave out parts of the invoice.
You can then see the changes live on the right. You can print the invoice later. Please note that the name 'free' in this case is limited to an X number of downloads. If you are really professional, with dropshipping for example, then you should consider downloading Ali Invoice Standard as well.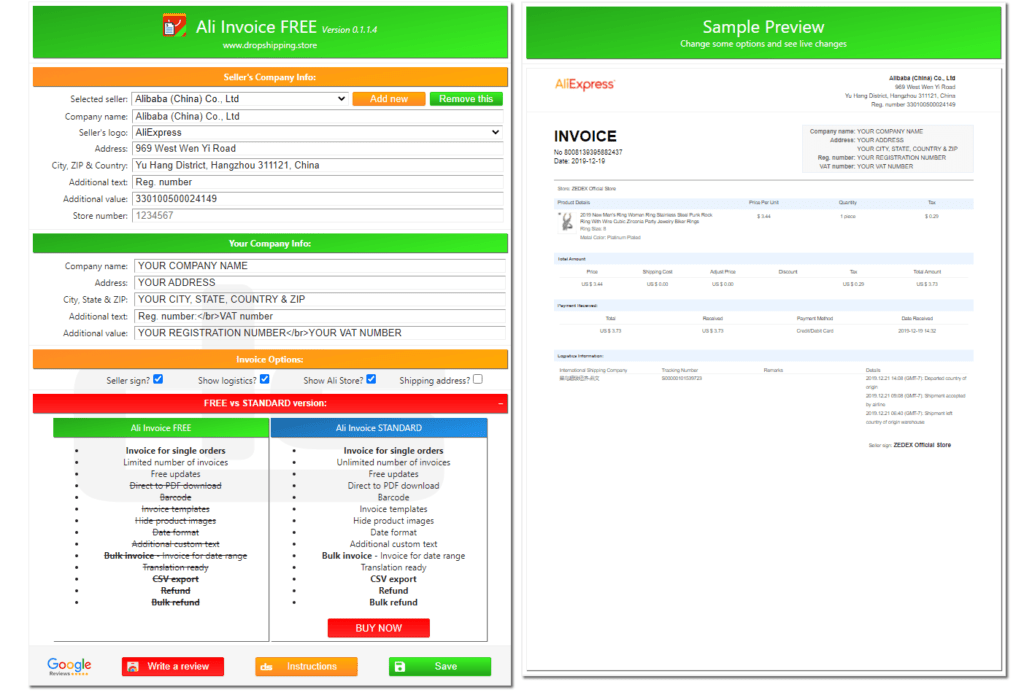 Which requirements does an AliExpress invoice have to meet for accounting purposes?
It is important for the tax authorities that they receive money for products you sell. An invoice must therefore contain all information showing that you have indeed bought or sold those products at a certain price.
A good invoice is therefore necessary. But what exactly you put on that invoice depends on your business model. If you sell to consumers, you must comply with different requirements than if you sell B2B (business to business). Different conditions also apply to international sales. So find out – possibly with your accountant – what requirements your invoices must meet.
You can also find more information on the website of your local tax authority.
Invoice AliExpress and customs
As soon as your package crosses the border, it is inspected by customs. At least, many packages are, not all. Since customs cannot see an invoice for the order, the seller must put the price on it. That price does not always reflect the actual value.
Sometimes customs does not know whether a parcel has actually been given a correct value. In those cases, you may receive a letter at home saying that the value of your parcel is too high. Then you have to pay a fee to customs. These include VAT and import duties.
If customs has put too high a price on the parcel, you can send an invoice to prove that it is not as expensive as customs says. This may save you having to pay import duties or VAT, at least, if your package is indeed worth less than they think.
Frequently asked questions about invoices on AliExpress
Can you download an invoice on AliExpress?
Yes, but not by default. You have to download an extension first. I'll tell you which two extensions you can download for your browser.
Is downloading invoices on Ali free?
Sure it is! You can use the extensions from my article to download a number of invoices from AliExpress for free. Do you want more? Then you'll have to buy a premium version of the extensions.
Are the invoices valid for my bookkeeping?
In the end, it is your accountant who decides. Don't have one? Then you should check the website of the tax authorities to see what requirements your invoices must meet. This is different for domestic invoices and customers than it is for foreign customers.