What if you've ordered a nice outfit, but you never received your SHEIN package? On this page, we explain the best way to handle this situation and give you tips for a quick settlement.
SHEIN package not received
Nothing is as annoying as an ordered package that you never received. Obviously, you want to wear that new dress or trendy outfit as soon as possible! There may be several reasons why you did not receive your SHEIN order. We list the possible causes for you.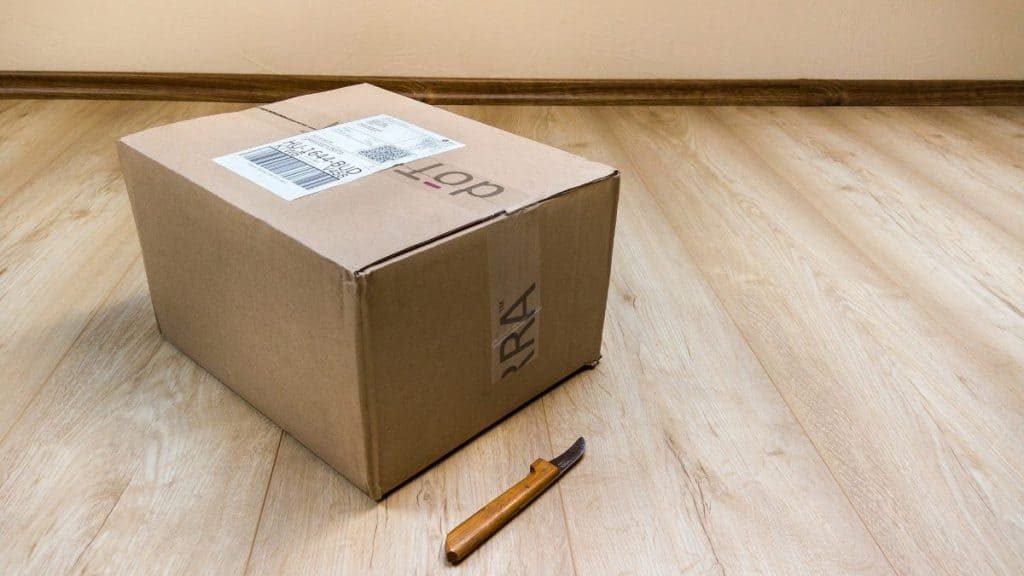 What you need to know about the delivery time at SHEIN
First, it's helpful to know that SHEIN has a delivery time of 10 business days. But please note that this does not mean that your package will arrive at your home within 10 working days.
In fact, the web shop also charges a processing time, in which your order is processed. During this time, the payment is checked, and the package is assembled.
For processing time, SHEIN charges 3 to a maximum of 7 business days. After this processing time, the shipping time starts, so it may well be that you will have your package within 17 working days.
TIP: Have you been waiting 12 days for your package? Then wait a little longer, there is a good chance that you will receive your package within 17 working days. If this is not the case, there are a number of other explanations as to why you have not received your SHEIN package, such as:
1. Invalid address
The web store indicates that the delivery time of the packages can also take longer than 17 working days, for instance, in case of an invalid address.
When you enter an invalid address on your order, the delivery people get into trouble. They don't know where the SHEIN package is supposed to go!
This will cause the package to arrive at the handlers, and then be returned to SHEIN.
When the package has been returned to SHEIN, you will receive a message that the address is not valid. Now, you have to fill in the correct address and only then the package will arrive at your doorstep. As you may have noticed, this is an unnecessary waste of time!
TIP: Be sure to double-check your address when ordering a SHEIN package. That way, you can rest assured that you won't get an unnecessary delay because of an invalid address.
Hasn't your SHEIN package arrived? Then check the address you entered in your order. This way, you can already find a possible cause.
2. Status 'delivered', but not delivered
In some cases, it happens that your package is indicated as delivered while you have not received it yet. Unfortunately, this can happen. What exactly went wrong, you probably will never know.
However, it's important that you first check if it hasn't simply been delivered to the neighbors. That also happens sometimes. Another possibility is that your package still arrives the next day.
We recommend that you be patient for one or two more days.
Does your package still not arrive afterwards? Then report your problem to SHEIN, here in your account. You must write in your order that your package was not delivered.
3. SHEIN clearance procedures
Another reason SHEIN gives for your SHEIN package not being delivered could be delays in customs clearance procedures. Customs clearance procedures are actions that must be taken when goods are sent from abroad to your country.
SHEIN originally comes from the United States and now has an active webshop in many countries. The web store is not transparent about where the packages come from. There is no address to be found from where the clothing is imported to your country.
It is possible that your SHEIN package will be delivered from outside the USA or Europe, and will therefore be submitted to customs clearance procedures before it reaches you. How long these clearance procedures take depends on the situation.
Have you been waiting a long time for your package? Then contact the SHEIN customer service to track your package. This way, you will often know the reason for the delay!
Tracking your SHEIN package
In SHEIN's user center, you have the option to track your order. This is great anyway, but it's especially useful when you have not received your SHEIN package.
In fact, here you can view where the package currently is, and how long it is likely to take for you to receive it.
To do this, go to 'My Orders', where you can find an overview of your orders and the status of these orders. Now, click on 'follow order details' to view the status of your package.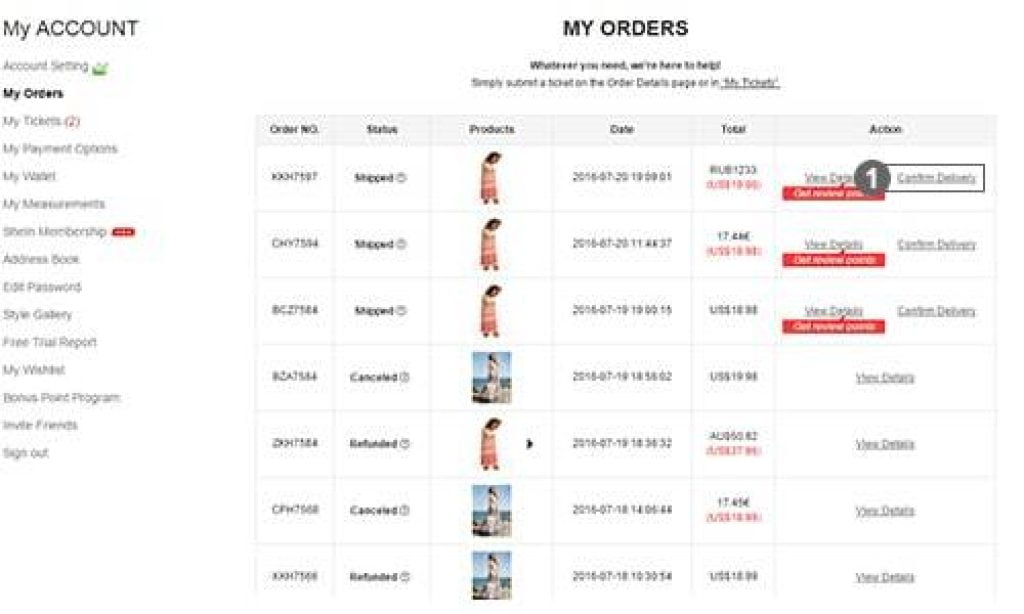 Once your order has been shipped, you can use the 'Track' button for information about where your order is currently located. You will receive a Track and Trace code.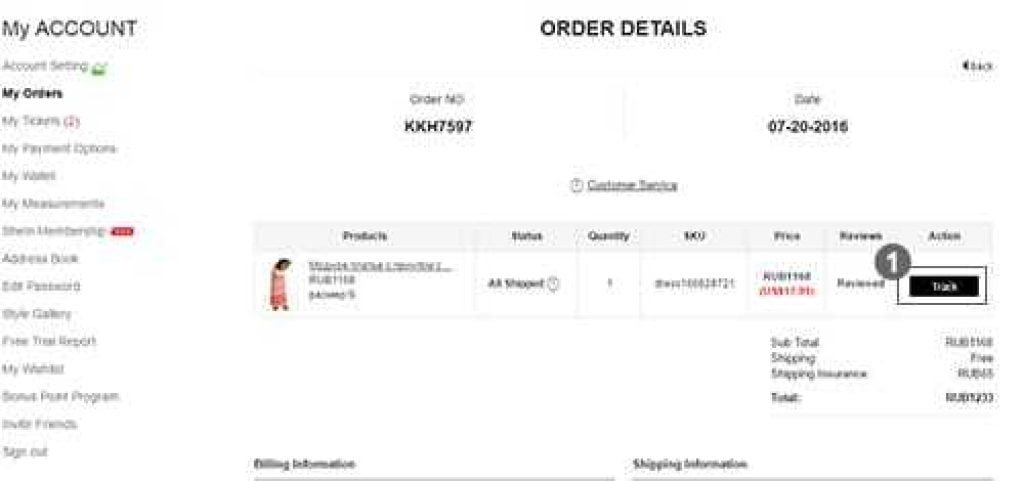 Contact the delivery person
If your SHEIN package has not arrived, you can also contact the delivery person. It may happen, for instance, that your package has already been set to 'delivered', while the delivery man has not shown up yet.
If this is the case, you don't have to worry yet. Often this is caused by the fact that the delivery person had to deliver too many packages in one day, which unfortunately resulted in your package not making it. In that case, you will usually receive your package within one or two additional working days.
TIP: Do you still want to contact the delivery person? Then check which company is shipping your package. We know at least SHEIN works with DHL, GSL and FedEx. You can see which delivery company is processing your package in your Track & Trace code.
What if your SHEIN package has not arrived?
Above, you can read about several reasons why your package may be delayed. Have you been waiting for your package for a long time? Perhaps something went wrong with your order.
If you have not received a SHEIN package after 20 to 25 days, we recommend marking your order as 'not delivered'.
TIP: indicate within 3 months after ordering that something went wrong with your package. Within these 3 months, you have a guarantee that you will be helped and that the problem will be solved. You can settle this through the SHEIN customer service via the automatic chat service.
Want to know all about SHEIN?
We would like to guide you through the world of online web shops from China, such as SHEIN and AliExpress.
On our website, you will find information for when your SHEIN order has not been received, as well as tips for the best deals and guides to web shops and orders. This way you can score the best items from China without any worries!
You might also be interested in: