AliExpress: the best tips & tricks for ordering in China
Shopping in China is hot! More and more people buy – often relatively cheap – products in Asia. AliExpress is a big shop here that gets a lot of turnover from people all around the world. But what does it all mean? Is it safe and what do you have to think about before ordering your favorite products? We have listed it for you in this AliExpress shopping guide!
AliExpress: who is behind it all?
When you think about ALiExpress, you might think of a large Chinese shop, but it is much more than that. AliExpress is by far Asia's largest international online shop and, like Amazon, it runs a lot of sales. But AliExpress is not an 'ordinary' online store like we know on a local scale in our own countries.
It is a collection of products offered by many different providers. Think of it as a kind of marketplace without fixed prices and full of suppliers, all offering their products for sale. This is also the reason that good searching pays off: often there are some price differences between several suppliers with the same product. You do have to take shipping costs into account though, but more about this in the next paragraph.
Behind AliExpress is the founder of Alibaba, Jack Ma. Previously he was a teacher and made translations, but nowadays he is a billionaire who owns a number of large companies and often invests in other companies. But why is it so successful? We will find out later in this article.
Buying in China and shipping costs
In our own countries, we usually have to pay shipping costs when placing an order online, but from China, you hardly ever pay them. How is that possible? It is not the case that your local mail carrier drives to China to pick up the parcel.
It is like this:
There are agreements between Chinese postal companies, the government and companies that use platforms such as AliExpress. Because of this, shipping can take a relatively long time, but on the other hand, there are often no shipping costs. However, there are also products that do have shipping costs, so be careful when placing an order to make sure that no unexpected shipping costs are added.

Customs: what can I expect?
This is a slightly more complicated story, customs sometimes wants to receive a sum of money from you if you have received a Chinese package. We explain the rules for you below!
For example, there are import duties that have to be paid, but this only applies to products with a value of more than EUR 150 and also only for certain economic zones, like the EU. The other two groups: from 0-22 euro and 22-149 euro are exempt from import duties in Europe. Apart from the amount, the product group is another variable in the calculation of costs. For example, smartphones are exempt from import duties, but you pay an amount on headphones.
More information and the correct percentages for your country can be found on the site of the Tax Office of your country.
The second component of additional costs is VAT. This has to be paid on the last two groups: so if you have a product above 22 euro, customs in Europe will charge VAT of (mostly) 21 percent on top of the price of the product. Chinese sellers often try to circumvent this for their customers by, for example, mentioning 'gift' or a lower amount on it. Keep in mind that in principle this is not allowed. Other VAT rules may apply if you are from the US, UK or other economic zones.
There are also so-called customs clearance costs, which are calculated by the shipping companies. For example, a company can charge 13 euros for arranging the administration and collection of the money.
So if you buy something in China, check how it works with import duties, VAT and customs clearance costs. Otherwise it might be better to order the products closer to home.
How long will it take before I get my parcel
We already talked about the shipping costs on AliExpress and the fact that it can take a long time. The maximum waiting time is about two months, according to the experience of many people online. Also, I personally have never waited longer than two months for my products from China. There are also stories of people who had their product within two weeks, but this is the exception rather than the rule. It also depends on where you are from, and if your parcel will actually be delivered from China, or a country nearby. If you order something in China, just keep in mind that it will be a long, very long time on the road.
So, ordering Christmas decorations in September isn't such a bad idea after all…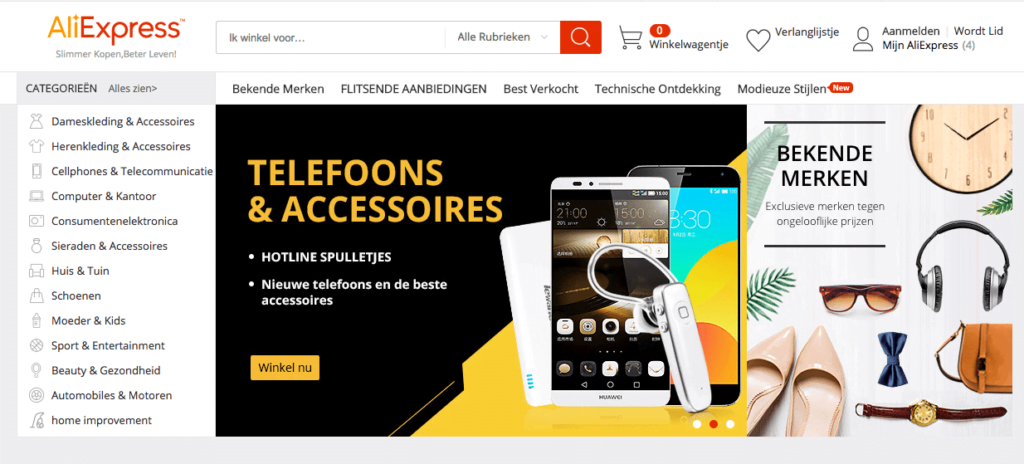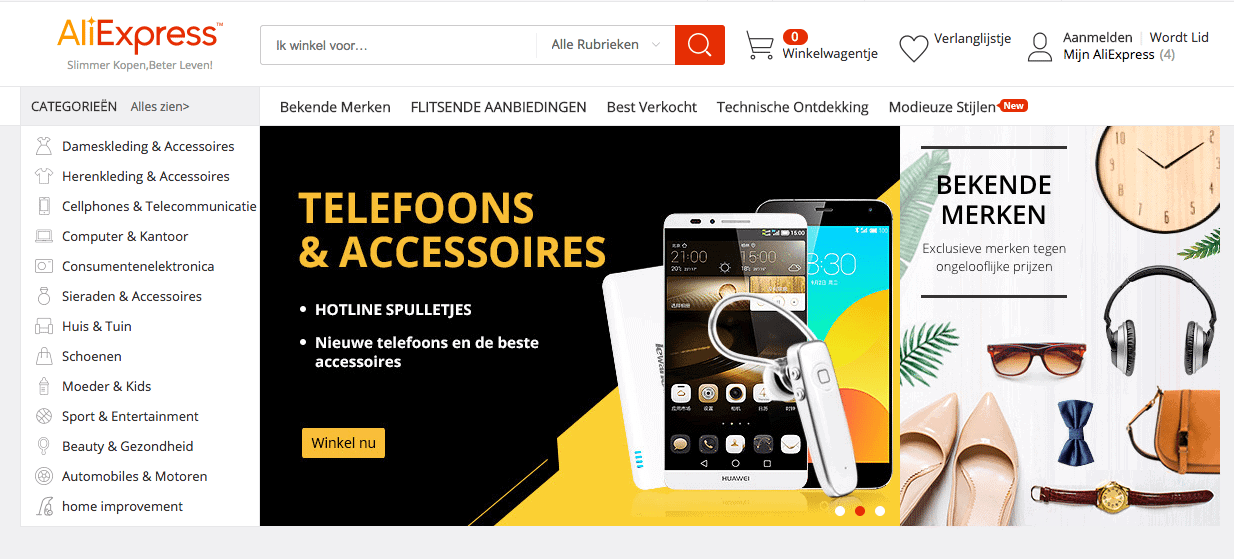 Am I being scammed at AliExpress?
Now there are a lot of people who wonder: how can it be so cheap? Is it really safe? A fair question, but in general you don't have to worry at AliExpress. Often we see that it takes a long time, but a message to the seller can clarify it.

In addition, ratings are very important for the sellers at AliExpress: a better rating means more order. The mention of a possible negative review opens doors that may have been closed before.
So real scams on AliExpress, personally I haven't seen it yet, but of course it is always important to use your common sense.
Warranty at AliExpress
First of all, it's good to know that AliExpress is actually no different than your local online marketplace. When you order something you don't buy from AliExpress but from a vendor through AliExpress. To give you security, warranty claims or wrong products are initially handled through the AliExpress platform.
Claim warranty and do this on time
AliExpress applies a strict deadline of 15 days. Within that time you must have submitted a warranty claim in order to be helped by AliExpress. Sometimes, such as when you buy a phone, the buyer offers a longer guarantee, in this case through insurer Allianz. So after 15 days you will have to turn to Allianz in case of a claim.
If you want to claim and you are within 15 days of receiving your delivery, you can open a dispute. You do this by logging in and choosing the appropriate option on the order page. You can only open one dispute per order. It is therefore important to mention all your complaints in once.
Settlement of warranty
If you have submitted the claim via the order form, the buyer will have the opportunity to respond. You can then negotiate with the buyer whether you will return the product and get your purchase amount back or whether you will keep the product and get a partial refund.
Already at the time of purchase you can see if the seller will take care of the costs for returning the product or if you as the buyer will bear these costs. If the seller covers the costs, it is important to agree in advance how you will send the package (by regular mail, registered mail, priority mail or by courier) and how the costs will be reimbursed. This is important, because sending a phone to China, from for example the Netherlands (we chose Shanghai as an example) via TNT costs € 76,01 and via DHL € 13,- via standard registered mail.
Warranty claim not settled properly?
If your warranty claim is rejected by the buyer or if the seller does not fulfill the agreements made and you have submitted the claim within 15 days, you can forward the claim to AliExpress. They will then take further control. When they also declare the warranty inapplicable, only the (theoretical) possibility of a lawsuit in China remains. In other cases they will settle the case and take care of the further settlement with the seller themselves.
If you have not submitted the claim within 15 days, Ali Express will keep its distance and you will have to come to an agreement with the buyer or his insurer.
Why is AliExpress so cheap?
Look, now that's an interesting question! In China a lot is possible, production is relatively cheap, especially if large quantities are made. Keep in mind that also products sold in the Europe, or the US are often produced in Asian countries, so it's not necessarily bad. Understand me well, there are certainly a lot of bad products on AliExpress, but you just have to read many reviews. You'll read more about that below.
The fact that it can be shipped for free with a small subsidy from the government and the fact that it is produced in large quantities, often unbranded, means that the prices are simply lower than we are used to.
Watch out for fake products
Even though prices are low, there are also many counterfeit products to be found. If something seems too good to be true, for example an iPhone for 200 euros, it probably is. You'll get a device with the looks of the iPhone, but not the quality and software we're used to get from Apple.
Of course sites like AliExpress do everything they can to ban this kind of counterfeit as much as possible, though there is still a lot for sale that doesn't come from the manufacturer. So the quality will be less, just like the price. This means it is desirable to use your common sense. A pair of Adidas Superstars for 25 euros, no, those are not real…
Another disadvantage of counterfeiting is that they can be picked out by customs and then simply destroyed. It is not allowed to import such products. So read the reviews, description and use your mind, before customs might send you a letter that your products were destroyed.
Reviews, reviews and more reviews
Reviews say a lot about the way a salesman works and about the product itself. Luckily you can find a lot of reviews on AliExpress, some even with photo. They also often mention how long it took before a product arrived. Don't stare blindly at this, chances are that this is completely different in your case.
Because so many people value reviews so much, sellers will do their utmost to get good reviews. They do this by trying to provide good service, respond quickly to messages and other things that customers get excited about. Sometimes they even add a small gift to your order to exceed your expectations.
So read the reviews carefully, check the number of orders and let yourself be guided by the experiences of others…


Order through the app!
This is a tip you should definitely use if you want extra discount. To promote the app from AliExpress, there are often special prices for people who buy through the app. Download the app for Android or iOS. Of course it is also nice to shop with the app, personally I always use it when I order something from AliExpress. It is way more convenient for ordering, but also tracking you
Pay with PayPal, Alipay or creditcard
You can pay AliExpress in a number of ways. Among others there PayPal, Credit Card and Alipay. With these first two you (often) have extra protection. If products are not delivered or do not meet your expectations, you can make a claim and get your money back. iDeal is also offered at AliExpress to make shopping easier, but keep in mind that the money is directly debited from your account and therefore more difficult to get back.
If you're planning on returning something, think carefully before you do so. It is often expensive and because the products you can buy at AliExpress are not very expensive, it often costs more than the price of the product. If you decide to buy a more expensive product, please read the terms and conditions of the relevant vendor before you order. Paying a huge amount of money for a return, is unfortunately no exception.
What do you think of AliExpress?
Please let us know below! We are looking forward to hearing about your experiences with buying at AliExpress.