You are planning to buy something on AliExpress, but wondering: is AliExpress reliable? In recent years I have placed over 200 orders and have the necessary experience with shopping on AliExpress. In this article I will explain how reliable AliExpress really is and what to look out for.
AliExpress reliable?
If you are reading this article, then you may be planning to buy something on AliExpress, or you may have already bought something and want to know if you are going to get your product.
"Is AliExpress reliable?" is therefore a logical question and we will answer it in this article. Unfortunately, it is not an unequivocal answer, because there are a number of elements to be considered.
→ Already know this page with bestsellers on AliExpress?
I will alrady share the general conclusion: Yes, AliExpress is reliable, BUT there are a few things to watch out for. Further on I will give some tips for shopping on AliExpress.
Good to know: How AliExpress works
Before we get into the reliability of AliExpress, it is important to know how this platform works.
AliExpress is a platform where small sellers offer their products in their own little shop. There are thousands, if not more sellers active on AliExpress, who are responsible for the shipping of products. Customer service is also (partly) taken care of by the sellers.
AliExpress actually facilitates the platform, with the 'shopping experience', but also the payment is arranged by AliExpress. As you might imagine, not all sellers are equally reliable or deliver good quality.
→ These bestsellers are now being bought by thousands of China fans.
If you can't work it out with a seller, AliExpress can always step in, read more about that at point #5 below.
AliExpress is therefore not a shop in itself, but a platform where many small sellers offer their products. The reliability and quality of AliExpress depends on the individual sellers. This can sometimes leave you disappointed.
That said, AliExpress does have a lot of things right, so if you do your research well, you can find very nice products on AliExpress for very interesting prices.
AliExpress is part of the Alibaba group, an umbrella company covering many shops and other services.
Buyer Protection on AliExpress
Another important element that makes AliExpress reliable is the fact that there is a so-called buyer protection.
This means that for a certain period of time after your order has been placed, you will benefit from Buyer Protection. This also depends on the expected shipping time of your product.
During this period you can open a dispute, a complaint. You can do this through the order overview on AliExress. You can open a dispute for a number of reasons.
The product has not yet arrived and the period has (almost) expired
The product has never been shipped
The product is not as desired / different from what was described
It concerns a counterfeit product
The quality of the product is substandard
Other problems with ordering / products
Please note that once your buyer protection period has expired, you can no longer claim. AliExpress simply assumes that everything went well.
My experience with the customer service of AliExpress is quite positive: they want to solve problems for the customer. You often have to send some photos or videos to do this, but generally a solution is found.
See if you can still open a dispute for your order here
Tips for buying safely on AliExpress
To shop safely on AliExpress, I have listed five tips below so you can almost always answer the question, is AliExpress reliable with a "yes".
1. Reviews, reviews and pictures
By now you're probably used to reading reviews when shopping. This is no different with AliExpress, here it is even more important to read the reviews carefully. This is best done with a small dose of distrust. For sellers it is VERY important that they get good reviews, so they often do everything to get this done.
There are two types of reviews on AliExpress.
1. Product reviews
As you would expect, you will find these with the products. Here, previous buyers share their experiences. It is also a good tip to select reviews with photos, so you can see the products in real life.
These photos are useful for clothing, for example, but for other products it is also nice to get a better idea of the products in reality.
2. Shop reviews
As you know by now, there are many different sellers on AliExpress. They all have their own 'shop'. This shop also has some useful information that you can check. First of all, there are reviews of a shop, which indicate how a shop performs as a whole.
In addition, conclusions can be drawn about whether or not shops are performing better than their competitors in the same sector. The number of followers of a shop on AliExpress can also say something about its reliability.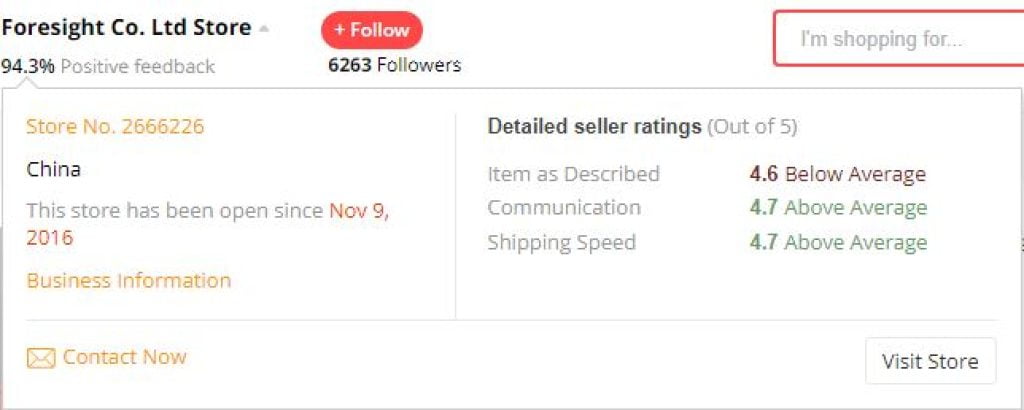 2. Do good research, also about the different sellers
It is important not to take any chances on AliExpress. There are often many suppliers who offer the same product under very different conditions or prices.
Comparing products, but also comparing sellers, is a good idea. Look at the specifications, read the reviews and also look at the total price. A well-known trick of sellers on AliExpress is to make the price lower and then the shipping costs higher. This makes them just as expensive (sometimes more) than the competition, but they end up higher in the list.
So on AliExpress the rule is: look and compare.
3. Take any additional costs into account
Different tax rules will apply in Europe from 1 July 2021. This means that costs will often be added when you pay for your product.
In the US and England, such changes do not apply. But it is good to check this regularly.
Import duties are a major topic of economic negotiation between countries. So it is possible that at some point in the future you will also have to pay extra for imports in your country.
4. Shipping times are different from what you are used to
If you shop online in your own country, it will often be delivered the very next day. This is (certainly) not the case with AliExpress. Especially if you go for cheaper products, there are cheaper shipping methods involved. Cheaper in this case means that they often take longer to arrive.
There are many different ways to ship on AliExpress, but usually it takes anywhere from 2-8 weeks before you actually receive your product. So don't order things on AliExpress that you need quickly: it simply won't happen…
Here you can also choose to ship from the EU, the US or England. These are generally delivered a little faster, depending on your location. If this option is available, it depends on the seller and you will see it on the product.
5. Not satisfied, speak up
If you are not satisfied on AliExpress, you should – of course – make this known. Contacting the seller often helps, especially because they are very afraid of negative reviews. Don't go throwing bad reviews around right away, but mentioning it in passing won't hurt.
If you are not satisfied, always send a message to the seller. If you cannot find a solution, open a dispute; this is often decided in the customer's favour. In this way, you will be offered a suitable solution to resolve the defect or complaint.
So, is AliExpress reliable?
After reading this article, you know that AliExpress is reliable, but you have to be careful when you go shopping. Read the reviews and don't just believe everything you see or read. If you follow these rules, then you can say: yes, AliExpress is reliable.
So, for now I would say: shop away (or check out these super deals on AliExpress)