A hairpiece or wig can give you a beautiful hairstyle in no time! SHEIN also sells wigs, so in this article we take a look at the product range and we give you tips on how to choose a wig that suits you.
Buying SHEIN Wigs
Whether you are buying a wig for hair issues, for a party or just because you like them: SHEIN is the place to go.
SHEIN is known for its cheap and trendy clothing. Fortunately, this is also true for wigs! There are many special hairstyles to be found in wigs, such as wigs in striking colours. But you can also choose from natural models with for example brown or blond hair, curls or fringes. Plenty of choice!
What should you pay attention to when buying wigs?
When looking for SHEIN wigs that are right for you, there are a few things to look out for:
Type: synthetic or real hair?
Wearing comfort
Attachment methods
Length of the wig
Care
In this article, we will explain each part in detail. So you know what to expect when you want to choose a nice SHEIN wig!
Type of hair
There are broadly two types of wigs you can buy: those made with synthetic hair or those made with real human hair. Both types of hair have different advantages and disadvantages.
Real hair wigs quickly look natural. It is therefore least noticeable that you are wearing a wig or hairpiece. However, real hair wigs are often slightly duller. An advantage of real hair is that it is easy to style: you can style, curl or even dye it! Real hair wigs are often of the best quality, but therefore also very expensive. Since SHEIN wigs are known for their low price, the shop does not sell wigs made of real human hair.
Synthetic wigs
Synthetic wigs have the biggest advantage of being a lot cheaper than wigs made of real hair. It is therefore no wonder that the cheap shop SHEIN only sells wigs with synthetic hair. There is also a noticeable shine in synthetic SHEIN hair, making you look radiant with your wig.
Synthetic wigs have the disadvantage of not lasting as long as wigs made of real hair. This does not have to be a problem if you want to buy the wig for parties or special occasions! Synthetic hair can also be more difficult to model. Fortunately, SHEIN has wigs for everyone: you can choose wigs with straight hair, slightly wavy hair or real curls. So choose the style you like!
Tip: Since you cannot style synthetic hair much, it is best to choose a wig whose style you already like!
Wearing comfort
A wig is usually worn all day, or at least for several hours. Therefore, it is important that the wig fits comfortably on your head. This has to do with the construction of the wig cap, among other things. At the same time, the wig should stay in place.
Tip: There are several SHEIN wigs available with a kind of anti-slip strip, so they stay on your own hair or scalp.
Pink wig with fringes and curls
Striking colour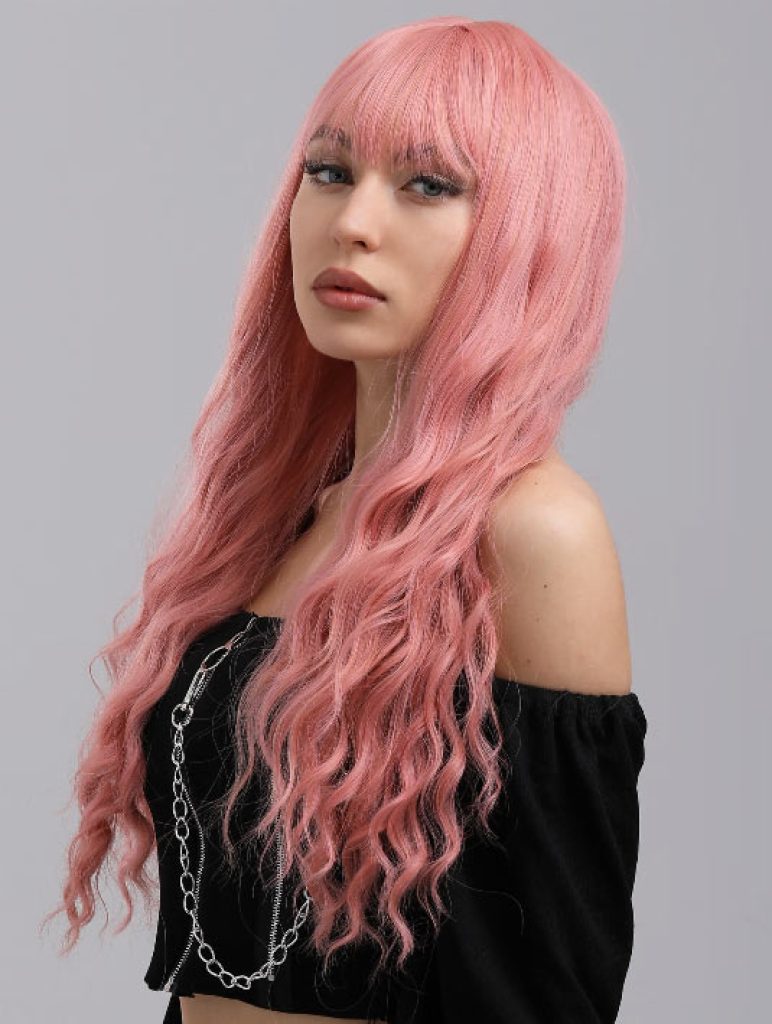 Attachment methods
You can secure SHEIN wigs to your head in different ways. A common way is with tape or clips. SHEIN wigs are worn by putting your own hair in a hairnet. In the wigs there are clips that you attach to your hairnet. This way the wigs stay in place.
Tip: Check how to attach the wig you have ordered. This can differ per model!
Short wig with fringes
Multi-coloured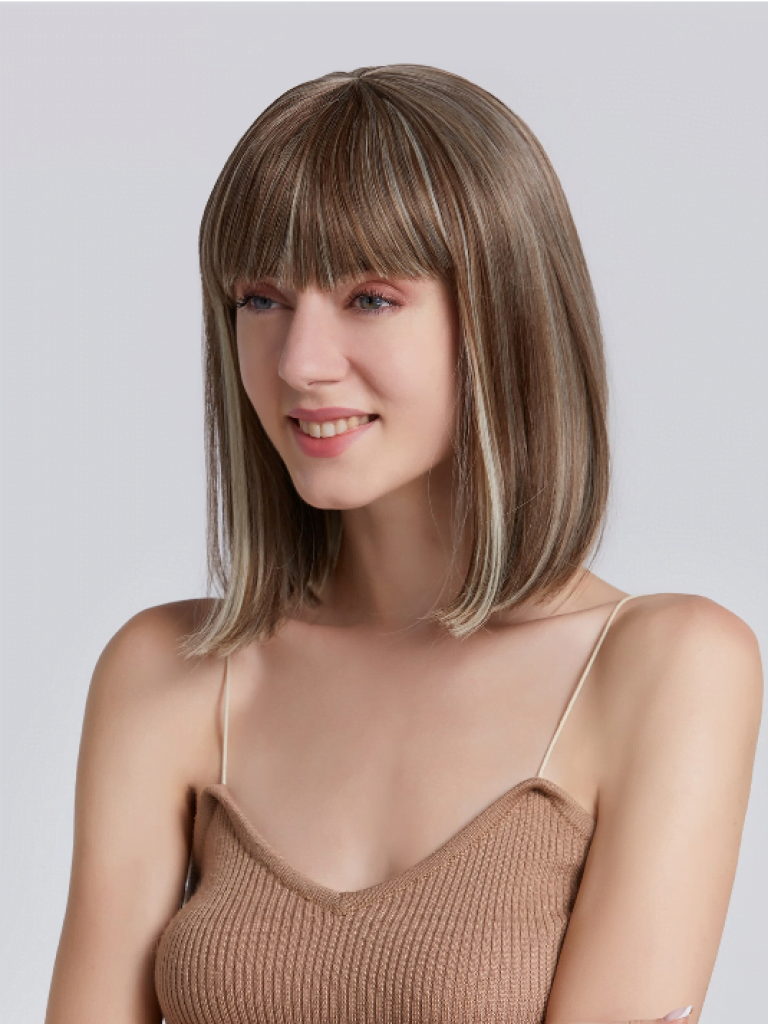 Do you prefer a shorter hairstyle? This short wig falls just above the shoulders and therefore looks very feminine and classy. The fringes are a nice addition, and the different colours of the strands in the wig make it look really cool!
Length
The length of the wig is also important to take into consideration! Fortunately, you can easily find this on the SHEIN website. The length has a great influence on the look of your wig, but also on the price. The longer a wig, the higher the price tag will usually be.
Tip: Take a tape measure and look in the mirror to see how long the SHEIN wig is on you. That way, you will know what to expect!
Natural wig with curls
No less than 65 cm long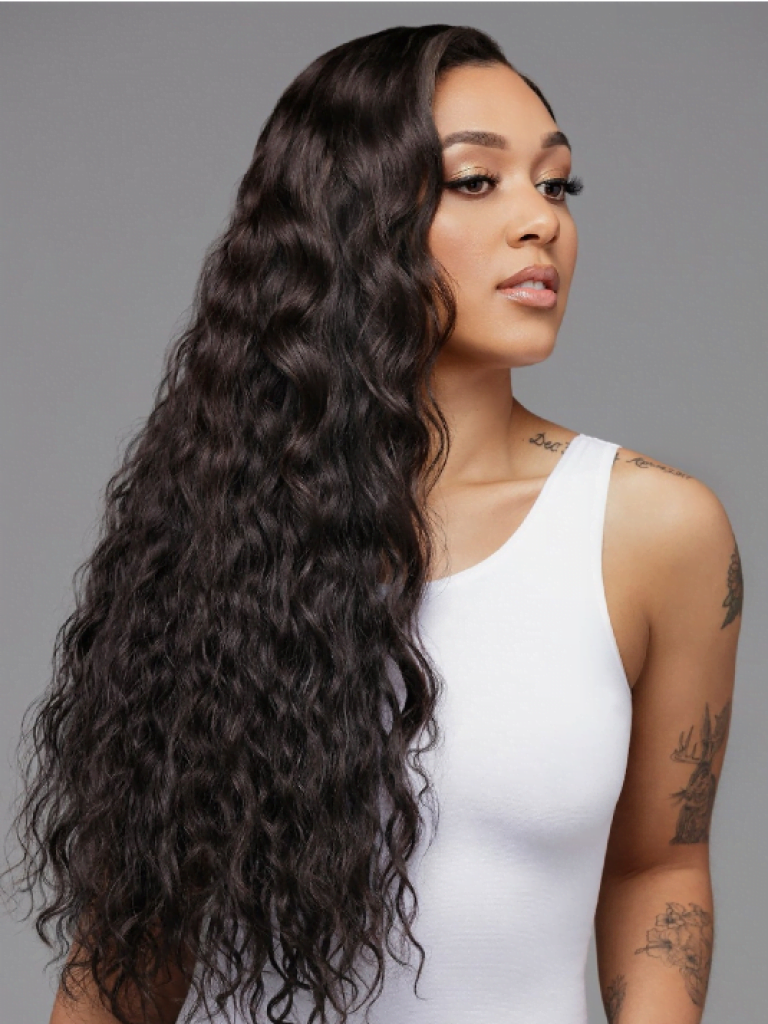 This wig is beautifully long and has subtle curls. With a length of no less than 65 cm, it definitely belongs to the longer wigs on SHEIN! The curls are present throughout the hair, but more subtle at the scalp and more striking at the tips. This gives it a natural look. A good option for a SHEIN wig, then!
Care of your SHEIN wig
The better you take care of the wig, the more beautiful it will remain. Proper care also ensures that you can use the wig longer. You can wash synthetic SHEIN wigs, but do this as little as possible (only when it is really necessary). It is also not possible to blow dry the wig, as this can damage or even burn the hair (!). However, it is important to (gently) brush the SHEIN wig regularly to prevent tangles.
Wash the SHEIN wig in a washbasin with a soft, nourishing shampoo that you let dissolve in the water. Then lower the wig into the basin and let it soak for 5 minutes. After soaking, rinse the wig under the tap at a lukewarm temperature.
Tip: After washing, it is best to let the wig dry on a wig stand, so that the hair falls back into shape.
Disadvantage of SHEIN wigs
SHEIN has a fairly large selection of wigs in all kinds of fun styles. The only thing we regret about SHEIN wigs is that not much information is given about the wigs. The colour and the length of the wigs are clearly stated, as well as the material.
There could be some more information about how the model is shaped, or what kind of synthetic materials have been used for the SHEIN wigs. How the wigs are bound (by machine or by hand) is also not mentioned, and only in some models is it clearly explained how to attach the wig.
Information about the wigs is therefore a point for improvement for the future!
FAQ about SHEIN wigs
Does SHEIN sell wigs?
Yes, SHEIN sells wigs. However, SHEIN's wigs are all synthetic. I'll tell you about 5 beautiful wigs at SHEIN and give you all the buying tips you're looking for.
How long does a wig last?
A wig lasts on average one year, with normal use. This depends on the type of wig and its quality. When you use the wig a lot, it will probably last shorter. Proper care of the wig will ensure that it lasts longer.
Are wigs bad for your hair growth?
Luckily, wigs are not bad for your hair growth. How this myth arose, we do not know. But that it is fake news is clear! Just make sure you choose a wig with good ventilation, so you don't sweat on your scalp.
Can I exercise with a SHEIN wig on?
In principle, you can play sports with a wig on. However, you should pay extra attention to ensuring that the wig is properly attached. Also, intense sports are probably not a good idea for wearing a wig, as they can fall off sooner. Swimming is definitely not a good idea, as the wig can easily come off in the water and chlorinated or salt water can damage it.
Do you also want to know everything about SHEIN?
Good! We from ChinaFans take you to all the important Chinese web shops. We write guides and give you tips, so that you can find the best deals or nicest items!
You might also be interested in this: Where does SHEIN come from + where are the clothes made?