If you are looking for the options to pay afterwards on AliExpress, then you are in the right place. In this guide, I will explain exactly how Klarna works on AliExpress and how you are able to pay for your order the moment it arrives. Below, you can read the guide: AliExpress Klarna: this is how it works.
Klarna: what is it actually?
Maybe you've heard the name Klarna before, but never really thought about what it actually is. Well, that's about to change.
Klarna is the name of a company that, among other things, makes paying afterwards possible for online shops. Klarna works with AliExpress, but also with many hundreds of other (online) stores where they offer their services.
→ Here, you will find the overview to track your package
Klarna is originally a Swedish company and was founded in 2005 by Sebastian Siemiatkowski. This payment service is available in a number of countries, including the Netherlands, Sweden, England and a few more countries. Klarna can not be used everywhere.
The company facilitates post-payments, but not to be confused with Afterpay, which is a competitor of Klarna. In this article, I will focus on Klarna, since this is the company that handles payments for AliExpress when it comes to paying in arrears.
Attention: Paying afterwards sounds attractive, of course, but it can also bring problems with it. Always make sure that if you choose to buy on account, you know for sure that you can spend money on it. In this way, you ensure that you do not get into trouble.
AliExpress and Klarna
In 2019, it was announced that AliExpress was going to collaborate with Klarna for a number of countries to enable post-payment. This should remove the barrier for a group of buyers, because it allows them to view the products first and pay afterwards.
There is one "problem" with paying via Klarna on AliExpress, and that is the shipping times. Klarna generally requests about two weeks after shipment to pay. However, with AliExpress, it is often the case that the product has not arrived by then.
Fortunately, you can easily extend the deadline, for example via the Klarna app (iOS / Android). You do so to ensure that you do not receive payment reminders if the product has not yet arrived.
The collaboration between Klarna and AliExpress seems to be working: it is still active.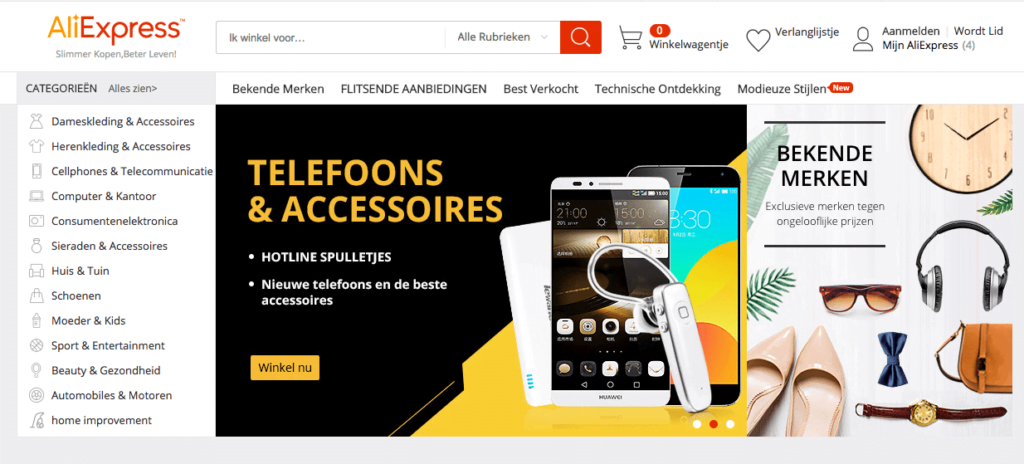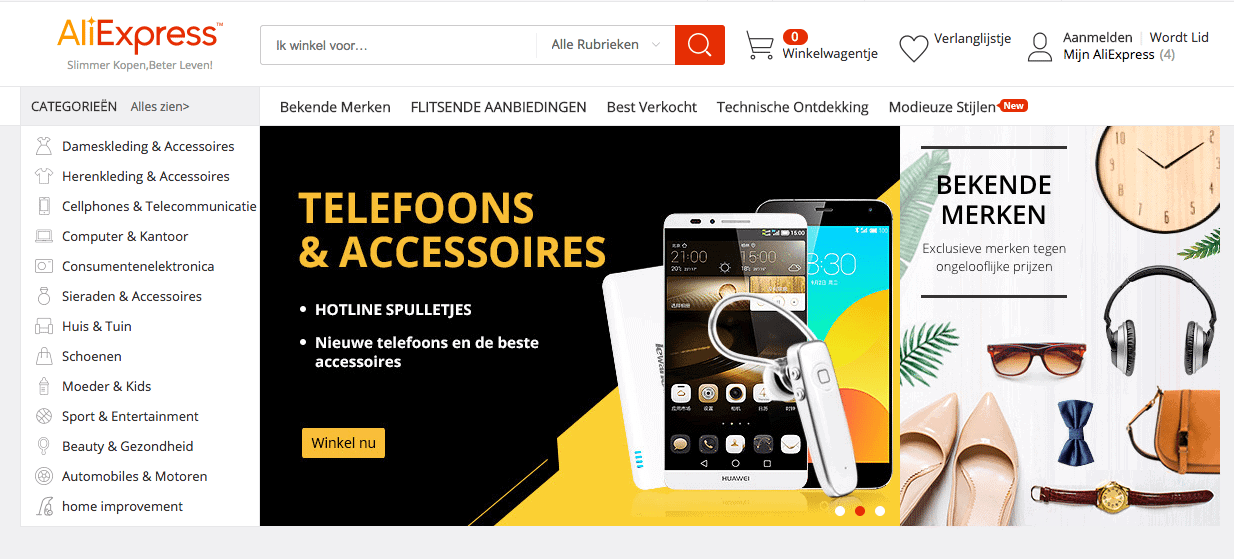 Klarna AliExpress: this is how you pay afterwards on AliExpress
Paying with Klarna on AliExpress is actually quite simple, but a step-by-step plan makes it a little easier.
In order to create this step-by-step plan, I placed an order myself on AliExpress, for which I paid via Klarna. So the screenshots are from a real order.
Paying with Klarna (Afterpay) on AliExpress, explained in a few easy steps.
Search for a product on AliExpress
Shop as you normally do: look for a product and decide whether you feel like purchasing it.
Add the chosen product to your shopping cart. It does not matter which location you choose to ship. This can be the EU, China or any other location.
Here, you will see a summary of your order as you would at any online store.
Proceed to the next screen and fill in the details
Here, you have to enter data such as your address and other relevant information. If you are logged in, this is often already filled in.

Choose the payment method
Often this is set to, for example, credit card by default, but you can change this. Select Klarna here. If Klarna is not listed, read further in this article what that could mean.

Enter all relevant data for Klarna
Klarna needs to know a few things from you before accepting a payment on AliExpress. Think for example of your address, but also date of birth and possibly phone number.

Simply place your order and you're done!
If Klarna has approved the payment, then your order is placed and the wait for your package can begin. If you have problems with the payment, read on for solutions at "Klarna AliExpress does not work".
AliExpress Klarna doesn't work: these are common problems + solutions
1. Klarna is not displayed as a payment method on AliExpress
A common problem of people who prefer to pay with Klarna is that the option simply doesn't appear. That's right, everyone (including me) runs into that issue sometimes. Why this happens exactly is not very clear, but below you can find several possibilities.
The amount is too high
Possibly your 'profile' at AliExpress does not allow Klarna
For a specific product, it is not allowed to pay afterwards
The Klarna service is not available at the moment
These are all possible reasons that don't necessarily have an immediate solution. A good piece of advice is to try it with another, possibly cheaper product. Maybe, then, you'll see Klarna pop up on AliExpress.
In case the Klarna checkout option does not appear, it is not possible to pay afterwards on AliExpress at that moment, no matter how much you would like to.
2. You see an error code (e.g., csc_7200015)
This is a frequently occurring error code given by Klarna, however, the company does not give a 100% explanation. After extensive research, it seems that this happens when your payment is simply rejected. This can be due to many reasons, which Klarna does not explain.
Do you run into the error code csc_7200015 with Klarna on AliExpress? Then try the payment a second, or even a third time. If you still can't get through, you should opt for another payment method, such as PayPal.
3. Klarna payment is not accepted on AliExpress
Are you checking out on AliExpress and the Klarna payment is rejected? That's extremely annoying, but unfortunately, there is little you can do about it.
Klarna uses data to determine whether you are eligible for payment afterwards or not. In doing so, they obviously calculate a risk that depends on many factors. A rejected Klarna payment can have many causes.
You may be in arrears
You paid Klarna too late last time
Data does not match (e.g. wrong phone number, date of birth or otherwise)
The amount is too high
You have an outstanding amount with Klarna, which means that with the additional amount the limit is exceeded
If you insist on paying with Klarna, you can always contact the company and ask for an explanation. However, I wouldn't expect this to give you an immediate solution for payment.
Frequently asked questions about AliExpress Klarna
How can I pay with Klarna at AliExpress?

To pay with Klarna at AliExpress, you shop as you normally would, and then add the product to the cart. At the next checkout screen, the payment options will be displayed. In this article, you can find a comprehensive roadmap, as well as solutions to problems with Klarna.

Why not Klarna AliExpress?

Would you like to pay at AliExpress and do not see Klarna appear? Then there may be a number of things going on. For example, the amount may be too high, but also your personal profile may have an influence. If you can't see Klarna at AliExpress, you can always opt for another payment method.

Does AliExpress have afterpay?

Simply answered: yes! At least if you mean whether you are able to pay afterwards on AliExpress. To do so, they use Klarna, a company that allows payment on account.

What does error code csc_7200015 mean at Klarna?

If the error code csc_7200015 appears during the checkout process of Klarna, there could be a couple of issues going on. Anyway, it means that the payment has been rejected, based on, for example, the price of the product or your personal profile.