Are you looking for an AliExpress Contact Service, for example for a complaint or a question? Then sometimes it can be a bit of a search where to go. In this article, I will show you which contact options there are and where you can find these.
Contact AliExpress: a brief introduction
AliExpress is an extraordinary web store. There are thousands of sellers on it, all offering their own products. It is difficult for AliExpress to control everything on the platform.
Therefore, it is possible that something goes wrong with the order or communication sometimes. In this case, you can opt to contact the seller, but even that does not always run smoothly.
Responsibility
Because AliExpress manages the platform and collects payments, they have certain responsibilities. Getting in touch with AliExpress is one of them. Below, you can learn the different ways to do so.
1. Contact AliExpress in your country
First, let's clear up a few misunderstandings. Despite the fact that you sometimes come across phone numbers on Google of a so-called AliExpress customer service in your country, probably doesn't exist at all.
There is a very small possibility that there is a site in your country, or that there is staff that speaks your language (other than English). When you track your package here, you will see that your package is at a domestic destination. Therefore, you'll probably think that there is also a site in your country. But then you're wrong. These are often just headquarters of mail order companies through which your package will be shipped and transported.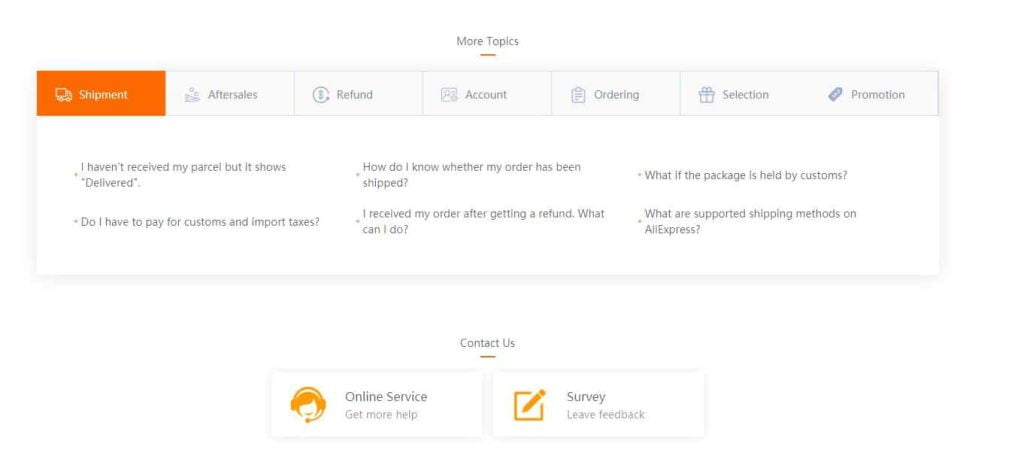 Chatting with AliExpress: your best option
AliExpress has about 60 million active global customers. Quite a lot of work if all those people can call you at any time of the day. Therefore, almost every page in the FAQ or on the Help page leads to a chat window. This is by far the easiest way to contact them.
Why?
Because not every service employee speaks English equally well. You will already notice this in the chat, which would make a phone call even harder to understand.
The link underneath will take you to the Helpdesk page. Scroll all the way down and you can start the chat.
2. Calling with an AliExpress phone number
There is also a slight misunderstanding here. Many people look for a number of AliExpress to call. Unfortunately, there are some websites that do show a phone number, but that phone number does not belong to AliExpress.
So please always look out when you see an AliExpress phone number with your country code in front of it.
There might be a chance that in the future during a chat on AliExpress, you will end up with a phone number, but that has never happened to me before. So I consider that possibility quite small. Most questions and complaints are handled by email or chat.
3. Have a complaint?
Products from AliExpress are not always of the best quality. Sometimes, you even receive something completely different than what you ordered. You can then file a complaint, or open a dispute. This contact with AliExpress works fine, since AliExpress takes great responsibility for your packages.
If you are not satisfied, you can do two things. First, you can approach the seller. You do that here. Here you can view your order, and then easily get in touch.
Did you order something, but you can't get in touch with the seller, or you can't work it out? Then you can file a dispute below. In that case, AliExpress will help you find a solution.
Here you will find out the possibilities to contact AliExpress. Unfortunately, AliExpress does not have a number that you can call, because that would of course be the most convenient option. Still, many people are happy about the contact with AliExpress. They get new products sent to them if something is not right, or they get their money back.
Bonus tip: always be as clear as possible and use plain English when you talk to customer service. My experience shows that you will get help much faster, and actually get an adequate answer to your question.
Frequently asked questions about AliExpress contact
How can you contact AliExpress?
There are several options. You can contact AliExpress itself, but also the sellers. Besides that, you can contact AliExpress about those sellers. Sounds complicated, but I'll show you where to go to find everything.
Is it possible to speak in in my own language?
Yes, this possibility exists… if you speak English 😉 Otherwise it will become too complicated. The customer service agent probably already struggles with English, so your own language will undoubtedly make sure that your question won't be answered or that you will get a package sent to your home, which you will not understand.
Can you file a complaint about a vendor?
Sure. Through a dispute or other notification, you can tell AliExpress that you are not happy with the service provided by a seller. AliExpress will then start a conversation with the seller on your behalf. I will also show you where you can file such a complaint.
Is AliExpress' chat a real person or a robot?
Initially, AliExpress will try to understand your question as clearly as possible. This is done through a series of questions. After about 3-5 questions, you will be paired with an appropriate service person. This will be a real person, so be a little nice 🙂
Also read: