Been visiting AliExpress for years and seen all its products before? Or ever had a bad experience on Ali? You might want to look at another provider as an AliExpress alternative. China offers a multitude of online shops that sell cheap products. Read all about our selection of 5 AliExpress alternatives here.
AliExpress alternative: where should you go?
Many Chinese web shops supply products internationally and AliExpress is by far the largest and most famous of them all. Should you wish to purchase similar products from another webshop or discover what else is available from China, please check this list: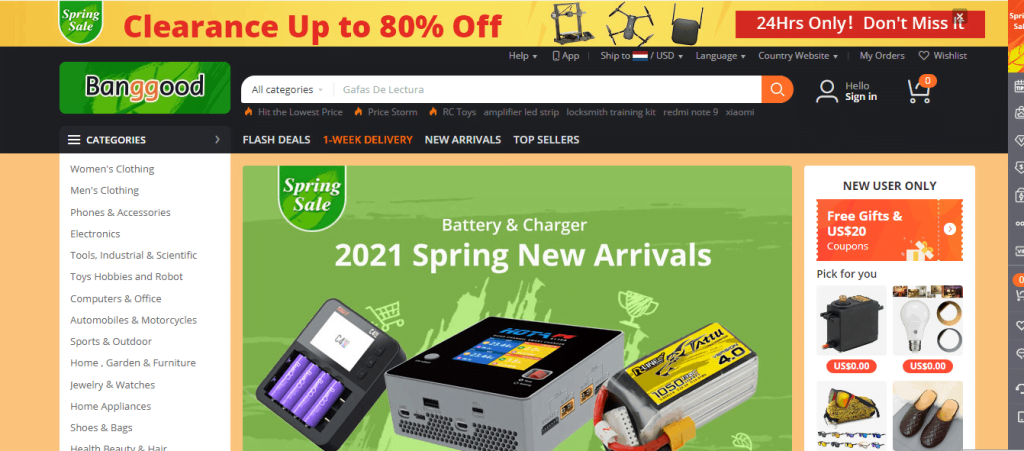 One of the best AliExpress alternatives is Banggood. This webshop is probably most comparable to AliExpress, mainly because of the product range and the global focus of the company.
Positive
Customer service scores higher than China's average
Some deliveries only take 14 days
Price/quality seems reasonable
Banggood is the only seller, so no individual sellers
Negatives
Some shipping solutions do not deliver as fast as promised
Products sometimes run out after ordering
What's for sale on Banggood?
Consumer electronics
Clothing
Toys
Car accessories
Bags and shoes
Tools and gadgets
Banggood payment options:
Paypal
Visa
Mastercard
American Express
Various mobile wallets
Delivery
Banggood provides different types of delivery. Therefore, the delivery time also varies considerably. AliExpress has the same issue. In general, the average waiting time is 30 days. If the warehouse is closer than China, you might be lucky, but sometimes you will just have to wait 2 months for your package.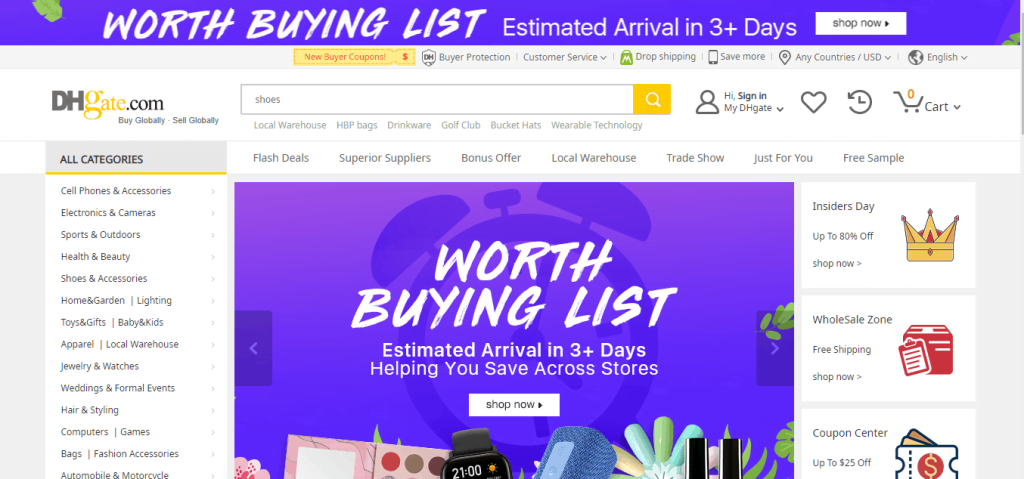 DHgate is another fairly large player in China. The platform is popular with both consumers and entrepreneurs. On the platform, you will also see the possibility of drop-shopping. As a result, the product range is quite large and shipping options are numerous, with varying delivery times.
Their website looks quite a lot like AliExpress' and even has similar pop-ups and flash sales. So at DHgate, it feels pretty much like you're just shopping at AliExpress.
Positive
Bulk purchases are very cheap
Site is accessible for dropshippers
Negatives
Seems too cheap to be true
Lesser buyer protection than AliExpress
Some prices are quoted per 100 as DHgate is mainly for resellers
What's for sale on DHgate?
Telephones, computers and consumer electronics
Shoes and clothing
Children's and babies' product
Jewellery
DHgate payment options:
Paypal
Creditcard
Wire transfer
Western Union
Delivery
DHgate advertises that delivery sometimes takes as little as 3 days. That is possible, if you are dropshipping from a local supplier from Europe or the US. But just to be sure, don't expect your package to arrive within 10-15 days, so you will not be disappointed if a delay occurs.

Light in the Box also looks a bit like AliExpress, but its focus is on slightly different products. Their assortment is a bit more narrow, and focuses mainly on fashion. Of course you will find many other products here. However, for non-fashion items you will be better off buying from a website like AliExpress, DHgate or Banggood. Light in the Box provides bargain-priced clothes of pretty good quality: an excellent AliExpress alternative.
Positive
Fast delivery time (but not always achieved)
Many customisable products
Negatives
Questionable customer service (reviews online)
What's for sale on Light in the Box?
Men's and women's apparel
Wedding items
Shoes and bags
Telephones (accessories)
Jewellery
Light in the Box payment options:
Visa
Mastercard
American Express
Bancontact
Delivery
Light in the Box has a reasonably fast shipping. Delivery from 3 days to 4 weeks and everything in between can be expected. Its delivery time depends on what you buy and where exactly it has to come from, so your location plays a significant role. If you live in Europe, expect at least two weeks. Are you in the US? Your package may arrive within 1-2 days. The method of shipping you choose will determine how long it takes for your package to arrive.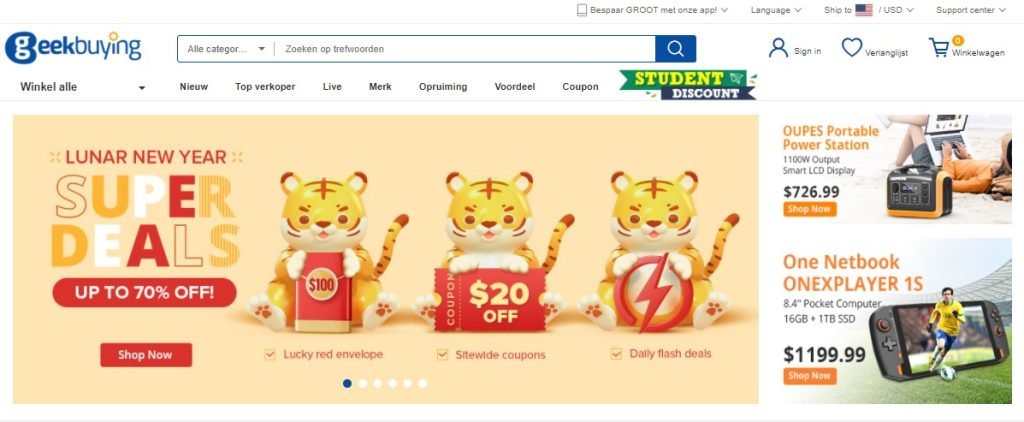 The website Geekbuying – as the name suggests – focuses on technology and gadgets. Although this is one of the most popular topics on AliExpress, Geekbuying volumes are a little lower. Still, you'll find other categories besides tech.
Positive
Perfect for gadgets/tech
Active community of shoppers
Clear reviews providing tips and info
Negatives
Limited product range if 'geek' stuff is not what you're looking for
What's for sale on Geekbuying?
Smart home and tech gadgets
Phones and accessories
Computers, tablets and accessories
Portable devices such as smartwatches
Geekbuying payment options:
PayPal
PayPal Credit
Regular creditcards
Debit cards
Bank transfers
Delivery
Geekbuying delivers all over the world, including Europe and the USA. It'll often take 2-3 days before your product gets shipped. Standard shipping takes one week on average, but just to be sure, expect a delivery time of 20-30 days.
DealeXtreme is a Hong Kong-based company. From there, DealeXtreme sells thousands of products aimed primarily at consumers and end users. Because DealeXtreme, like AliExpress, works with various sellers, it is wise to check out product and seller reviews. This website lives up to its name, by the way; you might get extremely good deals sometimes.
Positive
Quite large product range
According to thousands of reviews, they're quite reliable
Quite special offers
Negatives
Delivery time is not super fast
Limited payment methods
What's for sale on DealeXtreme?
Phones and accessories
Consumer electronics
Toys and crafts
Shoes and bags
Fashion
Cosmetics
DealeXtreme payment options:
Delivery
DealeXtreme promises fast delivery, but in reality this is not always the case. DealeXtreme delivers to approximately 250 countries worldwide, so your package will always arrive. The only question is when. Expect delivery to take 15-30 days. It will take a few days for your package to be dispatched after you have placed your order.
These five websites offer a great alternative when you want to look beyond AliExpress. Already have some experience with one of the above AliExpress alternatives, or do you know an AliExpress alternative that we haven't mentioned yet? Please let us know.