AliExpress Combined Delivery is a concept that will be rolled out from approximately 01-07-2021. It has several advantages, but which ones exactly? And are there still things you need to pay attention to? I will tell you all about the combined shipment on AliExpress.
AliExpress Combined Delivery: What is it?
It may have happened to you before. In your delivery details about your order, or only when the parcel delivery driver arrived at your door, you discovered that all your parcels were put in one package.
'How is that possible?' I asked myself out loud when it happened to me. 'Because I ordered everything from separate sellers, didn't I!?'
That was my first experience with combined delivery on AliExpress. At the time, I thought it was inconvenient. But as the feature continues to roll out and take shape, I see more and more benefits.
Ik zie het inmiddels ook steeds vaker staan op AliExpress. I see it more often on AliExpress. For example, with these products:
Above the button: 'buy now' you will see what I mean: the possibility to mark this product as a combined delivery.

What is it?
Combined Shipping on AliExpress is a new shipping method which makes shopping on AliExpress easier and more economical. It is a free service offered by AliExpress to combine packages and thus get them to you faster.
A combined delivery is therefore a total package of several small orders that you have placed with different suppliers.
This is how a combined delivery works on AliExpress
Suppose you buy 10 products of 1 euro from 10 different sellers. You give your address details to all 10 retailers. All the packages you order within a few days are then collected and put into one package. You will then receive everything in one go. This is much more efficient, of course, but also saves you money.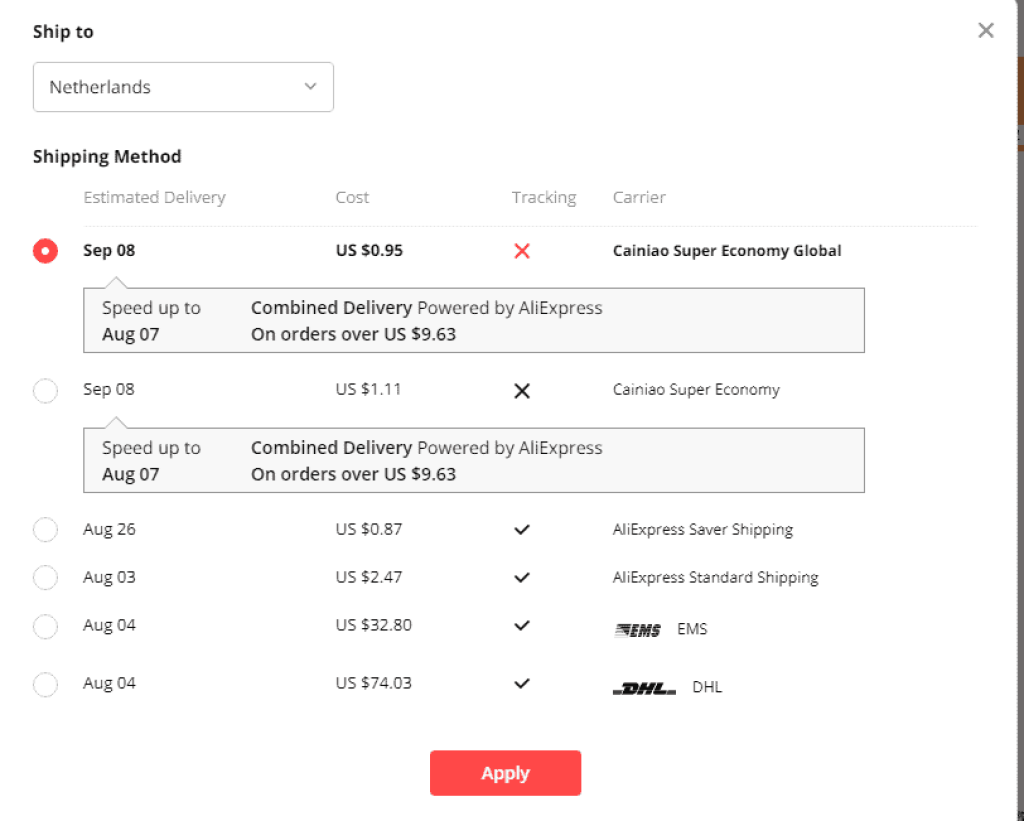 What is the advantage of combined delivery?
Combined delivery on AliExpress is based on a partnership between Cainao and AliExpress. Cainao, you know, the package delivery company that sometimes takes 8 weeks to deliver your order.
By combining parcels, they can be sent out more cheaply. They therefore do not have to wait, and your packages can be delivered a month earlier. Do you often have to wait a long time for your small deliveries? If you order them all together, chances are they will arrive twice as fast.
I have managed to do so myself on several occasions. I was surprised by the fact that my Cainao delivery arrived just as quickly as my AliExpress Standard Shipping products. So in my opinion, this combined delivery is a big advantage.
Advantages and disadvantages of combined delivery
Advantages
Parcels are delivered faster
Products from different stores are merged
More environmentally friendly, as your parcel delivery driver only needs to deliver once
Less risk of damage to your parcels
Nice and easy because you get everything in one go
Disadvantages
You always have to order for a minimum amount of Euros
What does combined delivery mean for you?
Do you often order on AliExpress for small amounts? In that case AliExpress will sometimes offer you this option. For the time being, however, it only concerns products which are delivered with Cainao. In general, these are often products with a lower price.
It looks like AliExpress wants you to order more than $10 worth of products. From that moment on, there will be a combined shipment. If that is the case, you will often receive the products a month earlier, for the same price.
Do you live in Europe? Then you don't have to worry about taxes. These days you just pay it to AliExpress. No more annoying import duties.
Step-by-step plan for combined delivery
Just go shopping on AliExpress as usual.

For a product like this, look above the 'buy now' button to see if there is an option for combined delivery.

Add everything you want to buy to your shopping cart.

Then look here to see if there is any info on combined delivery.
5. See if your total amount matches the (in this case) $ 9.63 you see here. If not, you can add products to your shopping cart using the button next to it or just through the normal pages of AliExpress.

6. As soon as you exceed the minimum amount for combined shipment, you will see this information. Then the faster delivery time will also apply to your package. Now order your products.
7. You will then see your orders on this page. Combined deliveries are generally clearly indicated here in the order status.
Search for products with combined delivery on AliExpress
New features are always rolled out slowly on giant websites like AliExpress. The ability to specifically search for packages for combined delivery has therefore not yet been fully rolled out.
Some China fans from different countries have already seen the filter option, but it also regularly disappears again from the website..
So we will have to wait for a full roll-out of this feature in the coming months.
Cainao
Because this is a collaboration between Cainao and AliExpress, many products that would have been shipped with Cainao will fall under this new combined delivery on AliExpress.
It strikes me that Cainao often only ships cheaper packages anyway. So as it looks now, you can expect a combined delivery mainly with Cainao shipments. That means you shouldn't filter on 10-day shipping anyway, because Cainao doesn't offer that option.
Do I have to pay extra??
No. Combined delivery on AliExpress is a free service, intended to make your packages arrive faster.
Is combined shipment AliExpress good or not?
For most people, this is good news. Your packages will arrive faster. You get everything in one go, and your postman doesn't have to visit you 10 times for a 40 cent package.
Does AliExpress open my parcels?
If all goes well, no. Once the parcels arrive at the AliExpress distribution centre in China, they all go into a separate, different package with a new sticker.
To which packages on AliExpress does combined delivery apply??
For now, combined shipments are done through a collaboration between Cainao and AliExpress. So it will mainly be these packages. This makes sense, as Cainao is always the carrier that takes up to 60 days to ship. Combined shipments can cut that time in half.