Alipay is a so-called 'third party payment system', enabling you to pay for your online orders from abroad. This payment method has many advantages. On this page we will explain how the system works. We also describe its disadvantages, to give you a complete picture of paying with Alipay.
What is Alipay?
Alipay is one of the most widely used online payment systems in China. As the name suggests, it is part of the well-known Alibaba Group, that also founded AliExpress. It was founded in 2004, and by now 1 billion (!) people worldwide use the payment system, according to the Alipay website. You can use it too, often on foreign websites.
Alipay is an e-Wallet, which means that you pay with digital currency. The amounts are deducted from your credit card after paying. You can also pay with Alipay in physical shops (in China), if the shop accepts it as a payment method. However, it is mainly used for online transactions.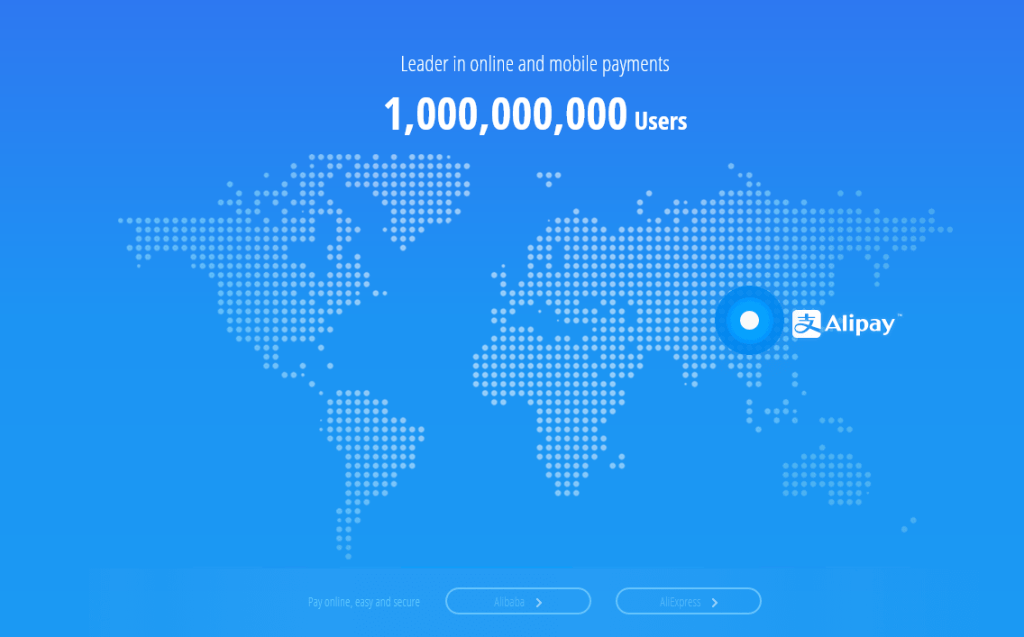 How does Alipay work?
It is a third party payment system, which means that it works as a kind of intermediary for online payments. Payment of your parcels to the web shop passes through the payment system, which means that these web shops will not receive all your details. If you were to pay with a normal credit card, the shop would receive all your details. The protection of your data is one of the biggest advantages of this e-Wallet.
Voordelen
A big advantage of paying with Alipay is that webshops do not get hold of all your details. There are also other advantages that contribute to the attractiveness of using Alipay. In short, these include the following:
Alipay offers buyer protection. This means that all your purchases through the payment method are insured. When you place an order, your money will be held by the e-Wallet until you indicate that it has been received. This reduces the risk of being scammed on foreign sites. These payments are protected for 90 days.
It is a very fast payment method, as Alipay automatically transmits (only) the required data to the web shop. You do not have to enter them manually each time, as they are already stored in your account.
You can also shop in other countries, where web shops might use a different currency! Alipay will then take care of the processing.
Where can you use it?
Alipay is especially convenient for people from Europe or other Western countries for online transactions on foreign sites. This is because the e-Wallet calculates differences in currencies, so you can buy things in any currency!
You can use it on any website or webshop that accepts it as a payment method, for example by paying with Alipay on AliExpress. Unfortunately this is not available at all webshops as a payment method. You can also use the e-Wallet to transfer money to other accounts.
In China, it is also possible to pay with this e-Wallet in physical shops. In that case, you download the app and scan the QR code, and then you can pay. In Europe or the US, this is hardly ever offered in physical shops, at the most in tourist shops that expect a lot of Asian customers. So for us it is mainly suitable for online orders!
Creating Alipay
In order to use the e-Wallet, you will first have to create an account on the official website. Here you will have to fill in various personal details and details of a credit card you will use to pay for the service. When your account is active, you can click on Alipay in the payment methods!
Go to the official Alipay website.
Credit cards or other payment methods
To use the e-Wallet, you need an account that holds the money. This is only possible with debit or credit cards. So it is probably not possible to link Alipay to your current bank account at your own bank.
Visa, Mastercard and Maestro are the most well-known credit cards accepted by Alipay. In addition, you can also use Qiwi Wallet, WEb Money or American Express, but the group of users of these credit cards is somewhat smaller.
Disadvantages
Unfortunately, there are also some disadvantages to this e-Wallet. For a clear overview, we have listed them for you:
Alipay is not available everywhere. Although the payment method is becoming more popular abroad, it is not yet widely used in Western countries. Therefore, it is usually better to pay for orders within your own country with another payment method, such as your credit card.
In addition, you have to pay a processing fee for each transaction. This fee is very low, but if you use it often, it can add up! For more information on processing fees, please read on below.
You cannot use Alipay for everything: there are prohibited product categories. For example, it is not possible to buy lottery tickets, fireworks or gambling-related products. Also, you can only buy tobacco or cigarettes to a limited extent. Remarkably, you can also not use it for payments of crowdfunding, seeds or real estate. Web shops that offer these kinds of products simply cannot add Alipay as a payment method. So in principle you do not have to take this into account!
Alipay processing fees
The payment method charges a processing fee for each transaction. In Europe these costs are € 0.10, and 3% is charged for surcharges of the payment method. In other parts of the world these fees are different. If you are paying with the e-Wallet from another part of the world, it is advisable to look up the exact processing fees.

The extra costs are of course less than favorable, but if you consider that for 10 cents per transaction you are much better protected against scams from foreign web shops, in many cases it is worth it. The consideration is yours.
What devices does it work with?
You can pay on various devices with the e-Wallet. The most obvious ones are your smartphone and your computer. On your smartphone you can download the Alipay app, which makes it easy to make payments via the app. If you do not want to download the app, you can also log into your account through your web browser.
If you want to pay with Alipay on your desktop, you can still use your smartphone. You will then need to use a QR. Then you can complete the payment. You can also use your desktop without the app, where you log into your account. This works fine, but takes a bit longer than using the app, because you still have to fill in data manually, such as your username and password.
In addition to desktop and smartphone, there are also various smart-devices that you can use to pay with the e-Wallet. For example, Alipay is available on the inexpensive Amazfit Bip. Several other smartwatches have the same function, making payment even easier.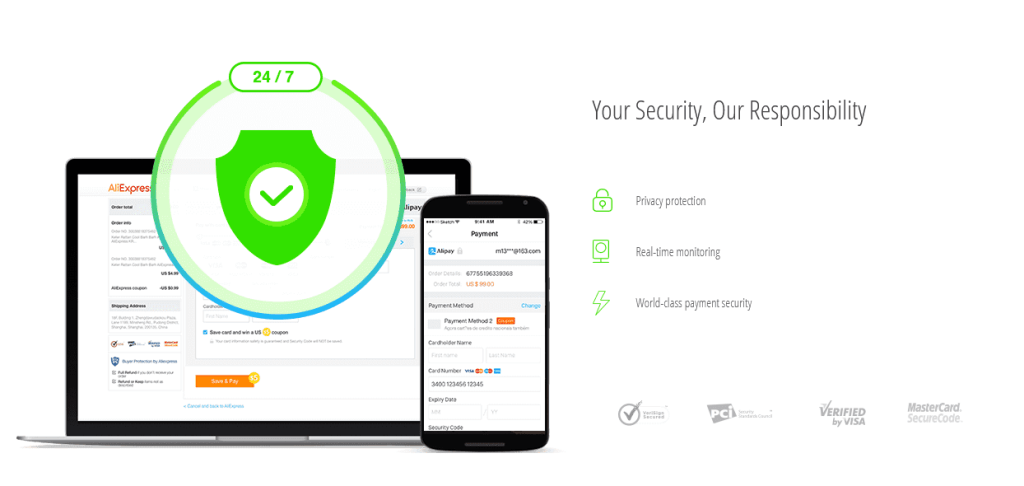 Difference WeChat Pay vs Alipay
Founded by Alibaba Group in 2003, Alipay is the market leader in digital transactions in China. WeChat is another Chinese payment method, which has had an increasing number of users in recent years. It is therefore a competitor of Alipay.
WeChat is the most widely used messenger app in China. In 2013, WeChat added a payment feature to the app: WeChat Pay.
So both apps can be used for online payments. However, the focus of each is different: Alipay is geared towards e-commerce and financial services. WeChat has a more social function, focusing on everyday transactions such as paying bills or groceries, or transferring money between friends. It is possible to link your MasterCard, visa and maestro with WeChat Pay as well.
In conclusion, is Alipay safe to use?
In short: for most webshops, bank transfers or payment via a local payment service remain the most convenient. This is because not every webshop offers Alipay as a payment method. If you don't mind paying with different payment methods at different webshops, you can simply do that.
The Alipay e-Wallet is very suitable for payments to foreign countries. Foreign sites often do not offer your local payment method, which means that you will have to pay with your credit card. Thanks to this method of payment you can order with a credit card, without your (credit card/personal) data getting to the webshop. Your details are therefore extra protected.
Furthermore, the e-Wallet takes care of everything concerning differences between currencies, allowing you to shop online with ease, literally anywhere in the world. The buyer protection is another aspect that makes Alipay safe: little chance of being ripped off online, as the merchant only gets paid when you have received the package completely and in proper condition.
Do you want to create an Alipay account? Click here to go to the official website.
Advantages
Buyer protection
Credit card information remains protected
Fast transactions
Payment possible in any currency
Disadvantages
Not often available outside of Asia
Processing fee per transaction
Forbidden product categories
Did you find this interesting?
At ChinaFans, we like to take you into the world of cheap products. We give the best tips or buying guides for all kinds of products, but also explain about different web shops or how to return your orders.
Might also be of interest to you: AliExpress order history: this is how you view all your orders.