AliExpress is one of the biggest online shops in the world for a reason: there's a ridiculous amount of producst on there. We've covered quite a bit about AliExpress already, but in this ultimate guide we offer lots of useful AliExpress tips and, of course, tell you where to find the best deals.
AliExpress: what is it?
Well, you may already know this, so feel free to move on to the next section, but I'll kick this one off anyway. Some background information will help you better understand the tips given below. The AliExpress website is essentially a large marketplace where many sellers, mostly small Chinese companies, offer affordable goods.
The reason AliExpress is so popular, is due to the fact that they offer relatively cheap products and often ship them for free to whereever you are. You'll have to wait a while for your package – sometimes up to two months – but you'll have that one cable or piece of jewelry for a penny, including shipping costs. Super convenient.
Since AliExpress is a marketplace with multiple sellers, it is good to realise a few things: we will highlight them here. In addition, we give you a number of product categories that are particularly interesting to buy on AliExpress. So let's start with the AliExpress tips.
AliExpress tips: here we go
We've compiled a nice selection of tips for you. Maybe some might look familiar, but considering my many years of shopping experience on AliExpress, I wanted to share what I've learned. Some tips are for the beginner, but it will also include some tricks for the advanced AliExpress shopper. So, never want to pay too much for your stuff and just receive your package? Then read on.
1. First set up a few things properly on the site or app
To shop at AliExpress efficiently, we have this tip for you: make sure the basics are solid. Create an account if you want and make sure the settings – about sending and receiving products – are set correctly. This means you'll have to fill in wherever you want to ship to.
In addition, you also have to indicate that the prices have to be shown in your currency, so you can immediately see the price correctly. Once this is done, it's time to start shopping with AliExpress. If you want more information on setting up AliExpress in Dollars or prepping other options, please check this article.
2. Immerse yourself in the magical world of product reviews
Reviews are becoming more and more important and this is certainly the case for AliExpress. The quality of products can be poor and you'd rather know that before you order.
So be sure to read the product reviews. It can be quite a challenge because auto-translation of AliExpress can do weird things to texts. If there's a normal Dutch review, for example, it becomes almost unreadable. Apart from that, just go through it anyway and see what other people's reviews are.
Don't just look for good reviews, search for less positive ones as well. For example, many times I decided not to make a certain purchase because the reviews showed the truth behind a product.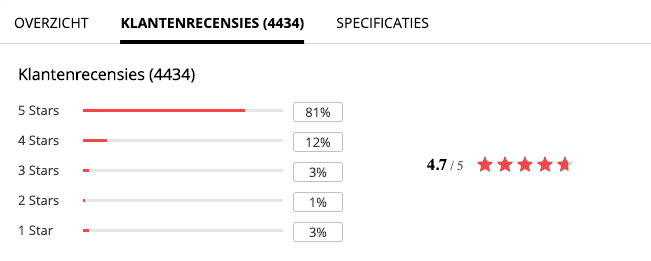 3. Check the seller's review on AliExpress
As mentioned earlier, AliExpress actually consists of a large number of small sellers that offer their own products on the platform. These are actually separate shops who all have their own spot on AliExpress. Users often rate products here, but the shops themselves are rated as well.
For example, it shows the positive review percentage of a particular shop. If this is well into the 90s, say above 95%, you know you are reasonably safe and that the seller will probably send you the product. If it is lower, you might have to ask yourself whether this is the right shop to actually buy the product you desire.
The shop's name and rating show you for how long the shop has been active on AliExpress. In other words, this will give you some idea of whether it is a one-off, or whether the shop has been active and successful on this Chinese webshop for longer.
4. Assess the number of orders
Another indicator of popularity and relatively good products is the number of orders. The golden rule here is: the higher the number of orders, the greater the chance it is a good product. However, there are a number of things to watch out for here.
If, for example, there are many orders but few reviews, there may be something wrong. It is possible that the product is new and that there are still many of them on the way to the customers, but this game knows some 'cheaters', who artificially increase the orders. Apart from that, it is a pretty good indicator on AliExpress, as long as you're cautious.
5. Searching on AliExpress: could be better
Personally, one of the things I am less excited about is AliExpress' search function. Oftentimes, non-relevant results appear, especially when searching specific keywords. In addition, it suffers from poor translations by sellers who are not even talking about the product.
So use the search function moderately if not in English. Universal language will give you greater chances of finding what you're looking for. However, this is not a guaranteed result. Once you have found a suitable product, it is generally easier to click through from that particular product to 'related' or possibly the same one. This way, you'll usually end up where you want to be.
6. Compare prices of several providers with this handy tip
By now you know (hopefully thanks to these AliExpress tips), that it is a large marketplace of multiple sellers. Of course, certain products will be listed more often. As you can imagine, everyone wants to sell as much as possible. As a result, AliExpress is a very competitive market. Hence: profits, if you look for them well!
But how to go about your business?
Once you find a suitable product, scroll all the way down.
Here you can see the recommendations, starting with the seller recommendation.
Scroll down a little further: you'll find the same products from other sellers.
This way of searching has already given me many advantages and is therefore one of my favourite methods of browsing on AliExpress.
7. Check the different price options on one product
Even when selecting a single product on AliExpress, several options are available in terms of price. This depends on a number of things, like its version and the location from which it is being shipped.
We see more and more sellers on AliExpress who have warehouses in, for example, Europe or Russia. This enables them to ship to users in those countries faster. Still, we often see large price differences here when items are being shipped from China. This may be due to the fact that VAT and customs have already been paid on the goods, but also because the seller has to incur costs for storage and shipping.
So pay close attention to where it is sent from and also bear in mind that the timeframe is naturally longer if it is sent from Asia rather than Europe.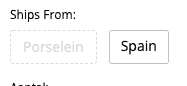 8. Keep these possible additional costs in mind
Actually, this is not a real AliExpress-tip, but more of a warning. You always run the risk of extra fees being added when ordering something from AliExpress. This has to do with the fees that may be charged in customs.
I'll try not to go into too much detail here, but on this page I'll clearly explain everything.
Try to keep your purchases below €22 or $25,90
If you have read and clicked the link in the above tip, you'll know where the 22 EU/25,90 USD comes from: this is the general exemption from customs and VAT, which means that if you place an order for less than 22 euros or 25,90 dollars, you will not incur any additional costs. If your order exceeds that number, chances are you might have to pay additional fees.
So when considering a larger purchase, always bear in mind you could incur these costs. Some sellers might put a lower price on the packaging and required paperwork to avoid this, but of course customs will not allow it.
10. Free shipping: the right choice is AliExpress
Everyone wants free shipping – maybe that's what AliExpress is known for. But it's not always the best option. Here's a brief explanation of how I saved even more without choosing free shipping.
I recently bought a few things on AliExpress, as I often do. The items in question were three belts. At check-out I was offered a free shipping option and AliExpress standard shipping. It could take up to 2 months, but would only cost 1 euro. So I got a discount because I was above a certain order amount (which I would have stayed below with free shipping) and a shipping discount of almost 2 euros. So, even though it's only a small difference, my order was delivered faster and cost less as well.
So always try to find out before you buy.
11. Explore the world of coupons
Coupons are common in China and are used for everything. If you buy more than amount X, you get a discount of Y with a certain coupon. This applies to special occasions, repeated purchases and many more moments, which is why it's wise to check if general coupons are available at AliExpress, and if there are specific coupons for sellers or discounts linked to your account.
But how would you know about them? Easy, just click on the link below and you'll be directed to the right page. It can be that simple…
12. Check user's pictures
Another useful tip for AliExpress are pictures. Besides the possibility to post reviews, users also have the opportunity to upload photos. This allows you to see the product in a 'real' environment, of real buyers that actually used it.
You can learn a lot from this: for example, whether the belt is just a bit too narrow (yes, it happened to me…) and even if it looks different from the seller's product photos.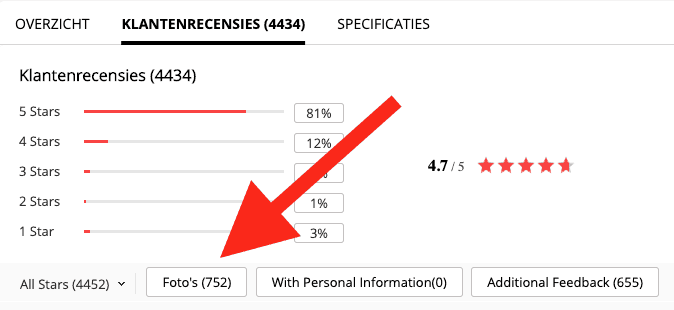 What to buy on AliExpress? A few recommended items!
Great! You've now got all these handy tips on how to buy things on AliExpress! But what should you buy? There are millions and millions of products on there and sometimes it's easy to get lost in the masses on AliExpress. We've selected a few products and product categories for you to get excited about.
Interesting categories on AliExpress
There's a bizarre amount of products to be found on AliExpress. We've got you some interesting categories to get started in.
Women's clothing
There is a ridiculous amount of clothing available on AliExpress, for a small price of course. That way, you'll always look fashionable.
Phone cases
Perhaps the most famous category of AliExpress: lots of cheap cases for your phone.
Men's clothing
There's plenty of clothing for men to be found as well, from well-known brands to unknown manufacturers. All at a reasonable price, which is just fine for a change.
Electronics for consumers
From smartphones to drones, to action cams and much more – you name it, it is here.
And much, much more…
AliExpress has a lot to offer, so if you want to go shopping, this is the place to start!
Products or brands I might find interesting
Unfortunately, I daresay I am an experienced Ali-shopper and have already placed more than 200 orders. In recent years, I have bought many useful and good products. But sometimes I too am out of luck.
As you can see, there is a lot to write about AliExpress and we love doing it. Thanks for reading this article, I really appreciate it!