Do you listen to Spotify or Apple Music while on the road via Bluetooth? With a Baseus FM transmitter, you can do it on your car radio! On this page, you will find the most important information and tips you need when choosing an FM transmitter for your car.
Baseus FM-transmitter
An FM transmitter is what you use in your car to connect your phone to your car stereo via Bluetooth. Most commonly, it is used to listen to music through your phone or to make hands-free calls. It's a real godsend for car radios that don't have a USB input or Bluetooth connection themselves.
You can find thousands of FM transmitters online, all with different features and designs. Because of this large selection, you may not be able to see the forest for the trees. Therefore, we are happy to help you with that! Read on for explanations and tips about the main components of a Baseus FM transmitter, so you know what to pay attention to.
Check here to see which Baseus FM-transmitter is best for you.
Here's what you should consider when choosing an FM transmitter
First of all, we list all the aspects you should consider when getting a model that is appropriate for your car. These are as follows:
Bluetooth version
Car charger
SD card or USB stick
A2DP and Bluetooth profiles
Hands-free car kit
We explain all these elements further on this page. Then we will discuss the installation of an FM transmitter and give tips against possible murmur. This way, you know what to expect when looking for a Baseus FM transmitter. Good luck!
Bluetooth version
An FM transmitter connects your phone to your car stereo via Bluetooth. Therefore, it is good to check which Bluetooth version the Baseus FM transmitter has. The Bluetooth version is always displayed as follows: Bluetooth 4.2.
Bluetooth continues to develop, which is why there are now many diverse versions available. The latest version is Bluetooth 5.2, but older versions still work as well. The difference between the Bluetooth versions is often in the speed of data transfer or other technological improvements.
The Bluetooth 5.2 currently gives the best connection, but that certainly does not mean that older versions give a bad connection. We do not recommend going below Bluetooth 3.0, as this is already becoming quite dated. With Bluetooth 4.0 or higher you are definitely on the right track!
Please be careful that both devices must support Bluetooth. Are you buying a Baseus FM transmitter with Bluetooth 5.0, but your phone can't support this at all? Then the Bluetooth connection will still be made via an older version. You probably won't notice this, but it's a waste of what you paid extra for the newest version!
Baseus FM-transmitter with Bluetooth
Double car charger included!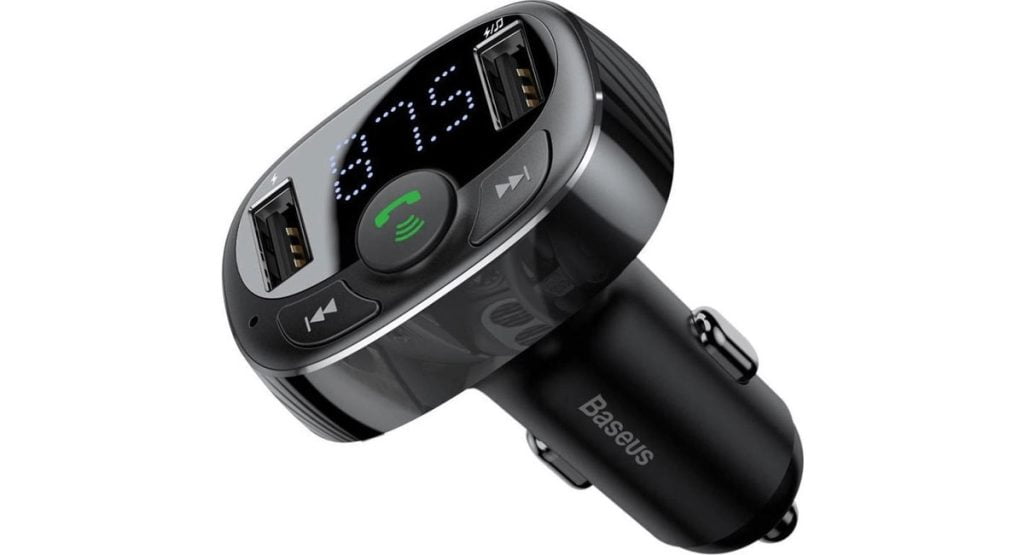 Check price
Check the current price for the Baseus FM transmitter
More information about this car accessory.
This FM transmitter from Baseus is an example of a useful transmitter with many functions. Most notable are the 2 USB ports, which allow you to charge as many as 2 devices simultaneously. The ports provide a maximum output of 3.4A.
Thanks to a Bluetooth 4.2 connection, the audio from your phone plays clearly on your car stereo. This makes it easy to listen to your favorite music or podcast. The transmitter is also a good choice for hands-free calling because of the built-in microphone.
The Baseus FM transmitter allows you to also connect a USB stick, Micro SD card or TF (Transflash). This way you can play your stored MP3 files in the car. Overall, the transmitter is a useful car accessory with many diverse features, which will undoubtedly make long car trips more enjoyable!
Bluetooth 4.2;
Hands-free calling;
Built-in microphone;
Weight: 30 grams;
Supports Micro SD cards, USB sticks and TF (Transflash).
Advantages
Dual USB port for charging;
Shows the status of charging;
Smart sensor that automatically clips your phone;
Warranty.
Disadvantages
Browsing through folders on a USB stick is not possible;
Not the very latest Bluetooth version. This shouldn't be a problem, but we would like to appoint it though.
Car Charger
Do you want to listen to music, but also charge a phone or Ipad at the same time? Well, that's possible too. In that case, opt for a Baseus Bluetooth music transmitter and USB car charger in one. Many FM transmitters offer this option, it will be mentioned in the product description. You can also recognize it by a USB input in the transmitter (see picture below).
To actually charge your phone, you also need your phone's charging cable. You plug this cable with the USB output into the car charger. The charging cable is never included with a car charger or an FM transmitter.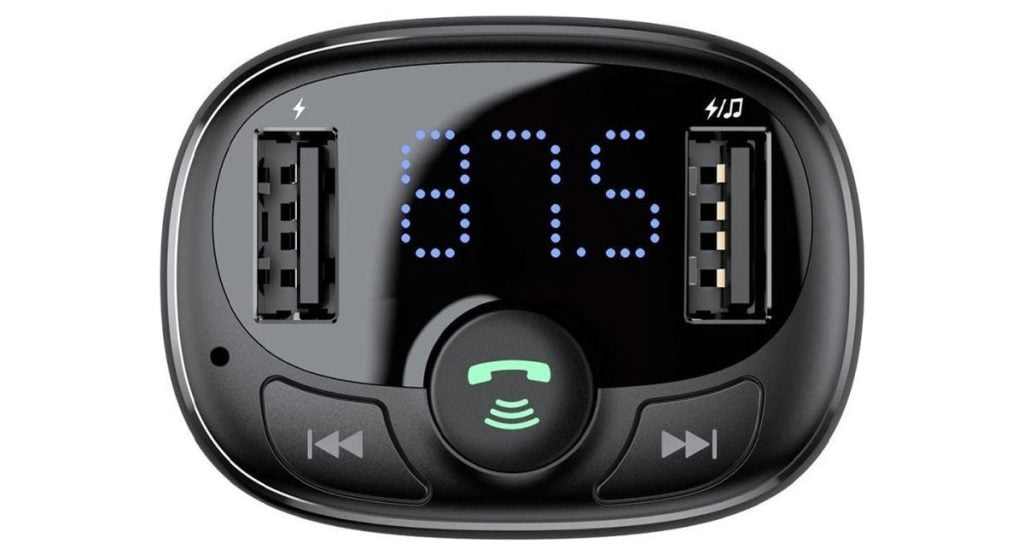 SD card or USB stick
You can choose an FM transmitter that can hold SD cards. In that case, you put music on the SD card, which you can then play in your car radio. This can be useful if, for example, you don't want to pay for music streaming services, but also if you don't want to listen to advertisements.
The FM transmitter reads the MP3 files you put on the SD card. Models that support SD cards often also have the option of inserting a USB stick into the transmitter. This works pretty much the same: then the transmitter reads the MP3 files on the USB stick.
This feature is therefore convenient to have, but not a necessity. If you mainly want to play audio from your phone, it is not important whether the transmitter has this function.
A2DP and Bluetooth profiles
Besides a Bluetooth version, there are also Bluetooth profiles to consider. There are several Bluetooth profiles, the most important one to (re)know is A2DP.
A2DP is short for Advanced Audio Distribution Profile, and is a special Bluetooth profile that transmits stereo sound in very good quality between devices. You can think of this feature as an extra insurance on a product with high-definition audio. Especially nice for the music lovers among us!
Hands-free car kit
Besides listening to music, Baseus FM transmitters are also widely used to make hands-free calls in the car. Fortunately, most of them also support this. Thanks to hands-free calling, you can talk to your colleagues or family on the road, while keeping both hands free for driving.
Apart from the fact that it is quite dangerous to hold your phone while driving, the fine for doing so is not bad either: € 230. We recommend making a (much smaller) investment in a hands-free Baseus FM transmitter!
How do you install an FM transmitter?
Fortunately, you can install these accessories very easily yourself. You place the Baseus FM transmitter in your car in the 12V or 24V socket of your car. This is the same place where you plug in any car charger.
When the transmitter is properly connected, a frequency will light up on the display of the transmitter, for example 108.8 FM. Then you set your car radio to the same frequency.
All you have to do now is turn on the Bluetooth on your phone and connect to the Baseus FM transmitter. Tip: make sure the sound on your phone is turned on (both media and call volume). Furthermore, you can now turn on your favorite podcasts and listen through the car radio without any worries!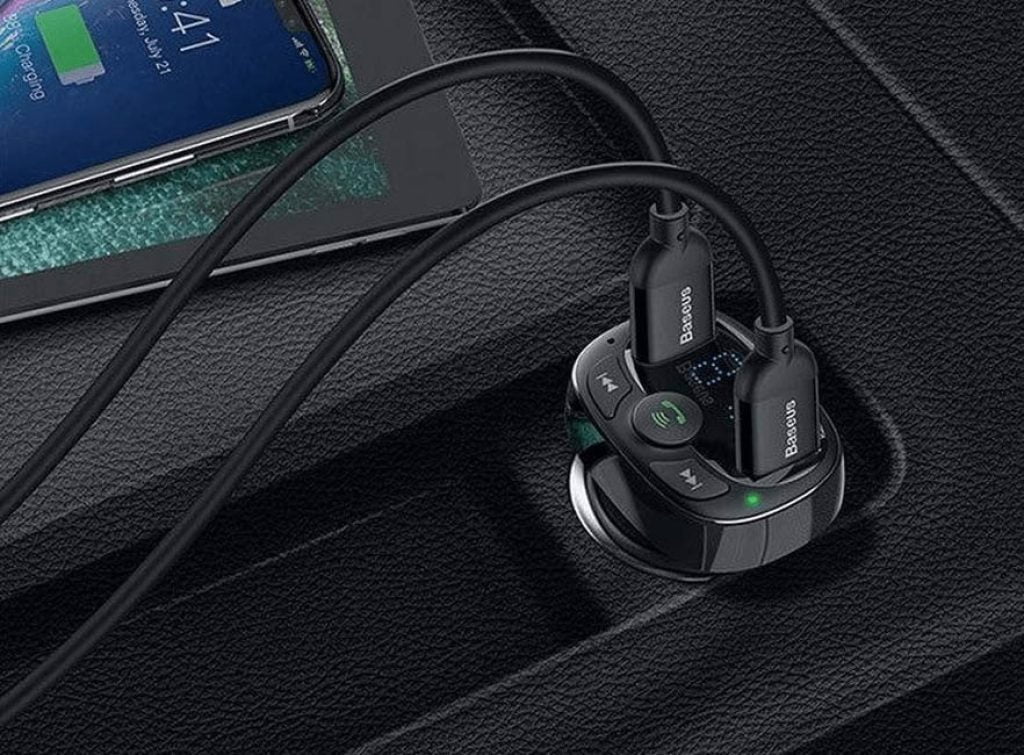 Tips against murmur
If all goes well, your Baseus FM transmitter will give you a clear sound and you will be able to listen to music without any murmur or crackle. Unfortunately, it also happens sometimes that there is some static in the audio anyway. This could be because there is another radio station nearby on frequency 108.8 FM. Sometimes this disappears on its own within a few minutes.
If the noise remains, we recommend adjusting the frequency of the FM transmitter. Next, adjust the frequency of the car radio as well. If all goes well, the jammer has stayed behind on the previous frequency and the sound is clear again.
A solution to light crackling, might be to turn the sound of your phone completely up. Instead of setting your phone to 4 and the radio to 9, turn your phone to 10 and the radio to 3. And zip, you have a crisp audio again!
Does the murmur remain, despite these tips? That is not how it should be. You probably received a defective product. In that case it is a good idea to contact the seller. Usually this will fall under the warranty, and you will receive a new copy after a return. So you can continue to enjoy beautiful audio in your car!
When do you buy an FM transmitter?
These car accessories are an asset especially for cars where Bluetooth is not a standard feature. Thanks to the transmitter you can still listen to music and podcasts via Bluetooth, for example from Spotify or Apple Music
Also for hands-free calling, an FM transmitter is a relatively affordable option. Overall, it is an in-car accessory that can make your long car trips a lot more fun.
Did you find this interesting?
On this page you have read all kinds of tips about how to choose an FM transmitter from Baseus with Bluetooth for your car. On our website you can find much more of this valuable content about all kinds of (electronic) products! We would like to take you through the online offer of all kinds of products, and help you along with tips & tricks.
You might also be interested in: Basues (wireless) chargers: 5 smart options.